Summer 2021 UD OLLI Online
Classes start July 6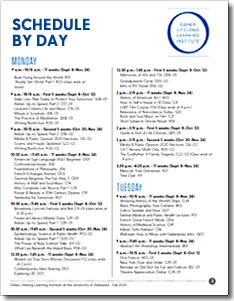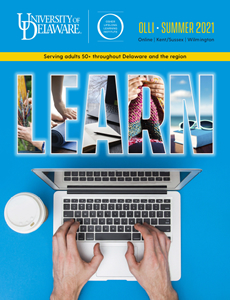 Most OLLI Summer Session classes are held online, with a small selection of in-person, outdoor classes scheduled for Kent, Sussex and New Castle County locations.
Classes take place July 6-29, meeting once a week on Tuesdays, Wednesdays or Thursdays.
Nearly 80 courses offered this summer!

60-plus OLLI Online classes
5 outdoor, in-person classes hosted by OLLI Kent/Sussex
11 outdoor, in-person classes and 1 extracurricular activity hosted by OLLI Wilmington

In-person participation guidelines — OLLI Summer in-person/outdoor classes will follow social distancing and health protocols.
Priority registration is now CLOSED — All online registrations received June 8-17 are prioritized equally. Late registration will reopen on June 29 on a first-come, first-served basis. Click here for details.
---
Interactive catalog
The current catalog is available on Issuu.com as an interactive digital publication.
---