Fall 2020 online courses
Updates about UD OLLI Online Spring 2021 coming in early December!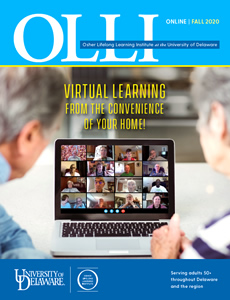 FALL 2020 COURSE SYLLABUSES — Selected course syllabuses, objectives and other information are available to preview.
FALL 2020 INSTRUCTORS — As an academic membership cooperative, volunteer instructors develop and teach the classes that are at the heart of our lifelong learning program. Click here to learn more about our Fall 2020 UD OLLI Online instructors.
Interactive e-catalog