Priority registration for the OLLI Spring 2022 semester will be available January 5-13, 2022. All registrations received by the priority registration deadline of January 13 at 4 p.m. will be prioritized equally; there is no first-come, first-served registration preference during the January 5-13 priority registration period. See below for details on the course assignment (seat allocation) process.
Details for Spring 2022 registration coming soon.
SEPTEMBER REGISTRATION — Initial course allocation was completed on August 24. Late registration & drop/add for classes with September start dates was available through Sept. 17.
OCTOBER REGISTRATION — Registration reopens in early October for classes that meet in the second 5-week sessions, with start dates the week of October 19 or October 26.
Initial course assignment takes place August 16-24, when class seats will be assigned according to member registration requests during Priority Registration.
Registrations received during the Priority Registration period are considered requests for registration, at which time new and returning members paid for their OLLI Kent/Sussex, OLLI Wilmington, or OLLI Online membership fee. The per-class registration fee will not be charged until August 24.
Course assignments (seat allocation) will take place August 16-24, when class seats will be assigned according to the requests made during Priority Registration. A computerized lottery system will distribute class seats where demand exceeded the class limits.
On August 24 after course allocation is complete, registrants will receive a final confirmation showing the classes for which they have been scheduled.
Registrants must use the link provided in the confirmation email to make payment (at the current semester's per-class rates) for the classes they wish to attend.
If payment is not received by Friday, August 27 at 4 p.m., members may be removed from the class roster, and available seats will be offered to members on the waitlist.
Fall 2021 — New registration system offers new benefits
UD's Osher Lifelong Learning Institute (OLLI) program has launched a new online registration system that provides several improvements, most importantly, allowing for priority registration and class allocation rather than first-come, first-served competitive registration. It also provides a modern database for improved program administration and reporting, and session-to-session registration accounts for members.
Beginning with Fall 2021 registration, all new, previous and prospective OLLI members must create a new registration account in OLLI's new online registration system.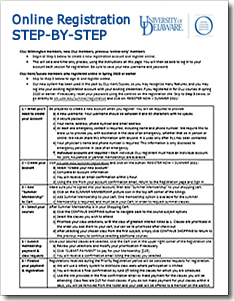 All users must create a new registration account in order to register for Fall 2021 membership and classes.
This includes all OLLI Summer 2021 members or OLLI Kent/Sussex members who previously used a similar system.
Save your username and password! Going forward, this will be your ongoing OLLI registration and payment account. You will use this account each session/semester for OLLI registration and payment.
Fall 2021 online registration
When you log on to register for Fall 2021 you will be required to purchase an OLLI Kent/Sussex, OLLI Wilmington or UD OLLI Online membership, payable online. Once your membership is paid you can request as many classes as you'd like, at the applicable per-class rates.
You will not be asked to pay for the classes until our class seats have been allocated. You will receive a confirmation email that details the classes you for which you are registered. A link for payment for those classes will be included in the email. Once you receive that registration email you will be required to make online payment for the classes within 4 days of receiving the email notice.
Upon payment you will receive a confirmation email and details regarding in-person classes and/or Zoom links for your online classes. If you do not make payment by the deadline included in the registration email your seats will be made available to other members on the waiting list.
Refund and drop/add processes
Beginning in the first week of classes, a process will be made available for:
Requests for refund for membership or class fees may generally be made through the first week of classes.
Refunds are not guaranteed and will be subject to review.
Refunds are subject to a $5 administrative fee.
Click here for the Refund and Drop/Add timeline for each OLLI program —