Learn. Explore. Grow.
Join us at OLLI for friendship, social opportunities and learning with no grades or exams
• Locations in Kent, Sussex, New Castle counties
• Academic cooperative for adults 50 and over
• Prior membership or participation not required
The University of Delaware is proud of its history as one of the earliest and largest lifelong learning programs in the country, hosting Osher Lifelong Learning Institute (OLLI) programs in Dover, Lewes, Ocean View and Wilmington. Structured as academic cooperatives, OLLI programs are open to adults aged 50+ to take and teach classes together, with course offerings determined by member interest as well as the passions and expertise of the dedicated volunteer member-instructors at each program's location, with no grades, exams or educational prerequisites.
OLLI membership is open to men and women 50+ and to members' spouses or partners at any age. Whether your formal education ended early in life or includes advanced degrees, we welcome you.
Locations in Dover, Lewes, Ocean View, Wilmington and online!
More than 2,100 OLLI members from Delaware and our neighboring states participate in lifelong learning courses and programs each semester, in subjects like: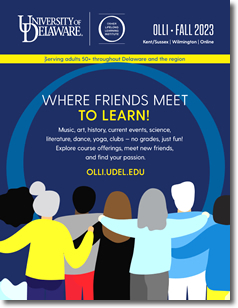 American Sign Language (ASL)
Basket making
Genealogy
Elder law
Environment
Folk dance
History
Investing
Languages (French, German, Italian, Spanish)
Medical/Health lectures
Memoir writing
Painting
Rock band
Stained glass
OLLI programs are structured as learning cooperatives, with an affordable semester-based membership fee, not tuition. Financial assistance options are available at all locations. OLLI is not affiliated with any religious or political organization, nor does OLLI endorse or promote any political or religious viewpoints.