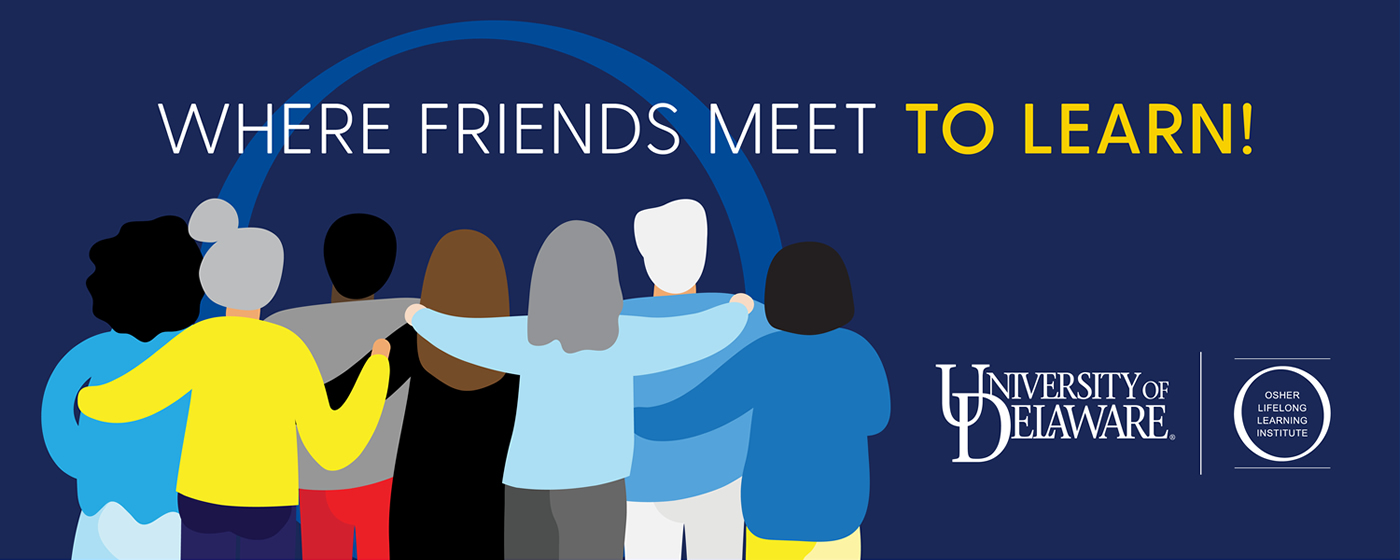 Friendship, social opportunities and learning — no grades or exams

Classes held in Dover, Lewes, Ocean View, Wilmington and online
The University of Delaware's Osher Lifelong Learning Institute (OLLI) programs are open to adults aged 50+ to take and teach classes together, with no grades, exams or educational prerequisites. Click here to learn more about OLLI.
FALL 2023 CATALOG: complete as of 7/14/2023 print date


CATALOG ADDENDUM: additions, schedule changes, cancellations


SCHEDULE: At-a-glance course schedule,

updated 9/29/2023



COURSE SYLLABI: Instructor-provided syllabi, course outlines

Want to hear why our members love OLLI?
OLLI is all about fun and fascinating classes, plus friendship and camaraderie. In this video, eight OLLI members share what they love about the OLLI program.
---
Joining us for in-person classes?
Vaccines strongly recommended — The University of Delaware and the OLLI program are committed to hosting in-person programs in a safe, healthy environment. It is strongly recommended that all OLLI in-person participants remain up-to-date with COVID-19 vaccination. Mask wearing is optional but encouraged. Guidelines are subject to change in accordance with current UD health guidelines. For details, visit UD OLLI In-person Participation Guidelines.
---
About the OLLI community
UD's OLLI programs are structured as learning cooperatives, with a semester-based membership and volunteer leaders and instructors supported by UD and OLLI staff.
OLLI is not affiliated with any religious or political organization, nor does OLLI endorse or promote any political or religious viewpoints.
OLLI participants interact in a learning community that embodies a wide range of experiences, cultures, abilities and even generations. Civil discourse, the free and open exchange of ideas, mutual tolerance and everyday courtesy are hallmarks of the OLLI community. Click here for more details about OLLI community conduct.
---
Learn more about UD OLLI
---