Join us for online learning!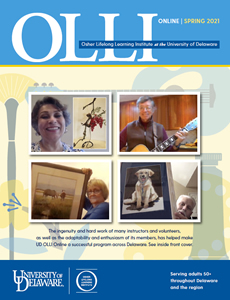 Engaging classes, thoughtful discussions, fun virtual learning experiences with other adults—all from the convenience of your home.
• Classes start February 22 and April 5, course listing available now
• Registration starts January 13
• Join us for a virtual open house on January 15
Osher Lifelong Learning Institute (OLLI) at the University of Delaware is an academic cooperative for adults age 50-plus to take classes, teach, exchange ideas, and enjoy the camaraderie of their peers. Instructors teach subjects they love to students who are there for the love of learning! OLLI offers —
Intellectual and cultural exploration
Social interaction and camaraderie among peers
No exams or grades — just learning for fun and enrichment
Past OLLI membership is not required to join UD OLLI Online; both new and returning OLLI participants are invited!
Registration begins January 13, for details see registration and course timeline.
OLLI is 100% online!
Our virtual OLLI classrooms bring together lifelong learners from across Delaware and our region to experience the benefits of lifelong learning at home and connect with a vibrant community of adult learners at the OLLI Wilmington and OLLI Kent-Sussex programs. Online classes are offered through the Zoom videoconferencing platform and are taught by experienced OLLI instructors.
Join our e-mailing list
Please provide your contact information to receive updates about UD OLLI Online.