Fall 2022 course catalog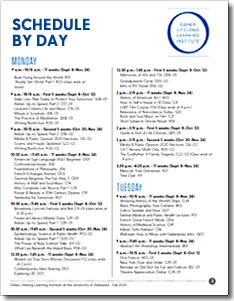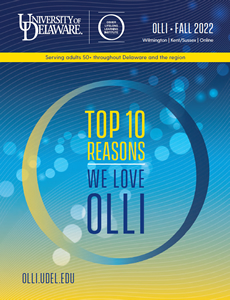 This fall, we invite you to try something new — 300 courses offered!
Sign up for one UD OLLI membership, then choose as many classes as you wish, at any UD OLLI location you wish, or online. A few classes may have a supplemental registration fee or supplies fee noted in the course description.
Regardless of your UD OLLI primary location, you can register for any combination of in-person and online classes, including all UD OLLI locations throughout Delaware. Please carefully note the course location of each offering, indicated by the catalog icons representing New Castle County, Kent County, Sussex County and online.
For more information:
Fall catalog update summary – this document will be kept updated to include any schedule changes and other course updates that could not be included when the Fall 2022 catalog was printed.
---
Fall 2022 interactive digital catalog
The Fall 2022 interactive "e-catalog" published below represents the most up-to-date schedule and course information as of July 12. To view complete catalog and schedule updates, refer to the Fall 2022 catalog update summary.