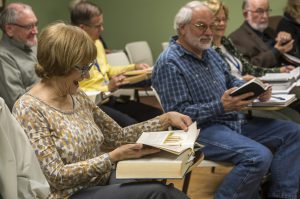 Osher Lifelong Learning Institute (OLLI) at the University of Delaware is an academic cooperative for adults 50 and over to enjoy classes, teach, exchange ideas and travel together. Instructors teach subjects they love to students who are there for the love of learning!
OLLI membership is open to men and women 50 years of age or older and to members' spouses or partners at any age. The only requirements are a modest membership fee and an interest in learning.
Members join OLLI for one or two semesters at a time, and then register for as many courses as they like.
Membership fee
Spring 2020 — $175
Fall-Spring two-semester membership is available to purchase in the fall only.
Benefits of membership

Intellectual, cultural and social interaction in a vibrant member-governed organization
Lifelong learning courses—Register for as many classes as you like, in any Kent and Sussex County OLLI locations
Extracurricular activities & trips—Participating in OLLI-sponsored trips and activities
UD email & Internet—On-site wireless Internet access, on-site use of computers (Lewes)
Online, computer related-resources—Student rate on software, access to Google Apps account
UD, Delaware Tech resources—Use of libraries and online resources
UD course audit privilege—Auditing one UD credit course per semester
Student discounts at various venues/retailers
How membership works
By paying the registration fee, members join the whole program, which includes signing up for classes and participating in other activities.
Participate at all Kent/Sussex OLLI programs—Join either the OLLI Kent County or OLLI Sussex County program as your primary location, and then sign up for as many classes as you like regardless of location (Bridgeville, Dover, Lewes, Ocean View or off-site).
Members join by paying the program's membership fee for the full year or the current semester.
Full year memberships begin with fall registration and expire on September 1 of the following year. Full year memberships include fall and spring semesters.
Single semester memberships begin upon registration for the fall or spring semester and expire on the first day of the subsequent semester.
The program's income depends almost entirely on registration fees, which are applied against operating expenses, including rent for classroom and program facilities and the cost of catalog printing and postage.
Some of these benefits require either a UD ID card (small fee) or a UDelNet ID (@udel.edu email account), which are available to all full-year members.
---
Quick links