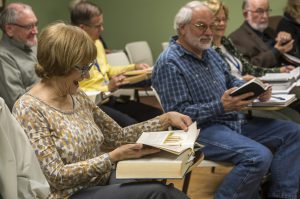 Osher Lifelong Learning Institute (OLLI) at the University of Delaware is an academic cooperative for adults 50 and over to enjoy classes, teach, exchange ideas and travel together. Instructors teach subjects they love to students who are there for the love of learning!
OLLI membership is open to men and women 50 years of age or older and to members' spouses or partners at any age. The only requirements are a modest membership fee and an interest in learning. Members must be either at least 50 years old within four months after the beginning of the term in which they register, or the spouse or partner of a member of that age.
Membership fee
Summer 2019 — $60
Fall 2019 — $175
Fall 2019-Spring 2020 — $260 (fall-spring combined membership is available to purchase in the fall only)
Benefits of membership
How membership works
By paying the registration fee, members join the whole program, which includes signing up for classes and participating in other activities.
Members join by paying the program's membership fee for the full year or the current semester.
Full year memberships begin with fall registration and expire on September 1 of the following year. Full year memberships include fall and spring semesters.
Single semester memberships begin upon registration for the fall or spring semester and expire on the first day of the subsequent semester.
The program's income depends almost entirely on registration fees, which are applied against operating expenses, including rent for our classroom and program facilities and the cost of catalog printing and postage. Osher Lifelong Learning in Dover is expected to generate sufficient membership revenue to cover operating costs.
Quick links