All online registrations received June 8, 10 a.m., through June 17, 4 p.m. were prioritized equally. During the June 8-17 priority registration there is no first-come, first-served registration preference. Registration reopens on June 29 on a first-come, first-serve basis for courses with open seats.
New registration system offers new benefits!
UD's Osher Lifelong Learning Institute (OLLI) program has launched a new online registration system that provides several improvements, most importantly, allowing for priority registration and class allocation rather than first-come, first-served competitive registration. It also provides a modern database for improved program administration and reporting, and session-to-session registration accounts for members.
Registration is NOT first-come, first served
Priority registration is open June 8, 10 a.m. through June 17, 4 p.m. There is no first-come, first-served registration preference. If registrations for any class exceed the class's available seats, the seats will be assigned by a computer-based lottery. There is no preference or penalty for registrations received earlier or later within the June 8-17 priority registration period.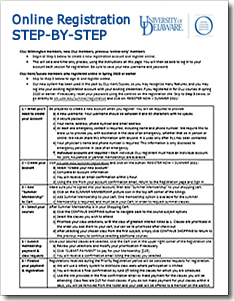 How to use our new online registration system
OLLI Wilmington members, new OLLI members, previous 'online-only' members —

must

create a new registration account in our system.

This will be a one-time-only process; thereafter you will be able to log in to your account each session for registration. Be sure to save your new username and password for future semesters.
OLLI Kent/Sussex members who registered online in Spring 2020 or earlier —

may sign in with their existing login credentials.

Our new system has been used in the past by OLLI Kent/Sussex, so you may recognize many features, and you may log into your existing registration account with your existing credentials if you registered in for OLLI courses in spring 2020 or earlier. If necessary, reset your password using the controls on the registration site.
When you log on to register for summer you will be required to purchase a $25 summer membership payable online. Once your membership is paid you can request as many summer classes as you'd like. Most are $15 for 4-weeks but some classes vary in length or price.
You will not be asked to pay for the classes until our class seats have been allocated. You will receive an email the week of June 23 that details the classes you for which you are registered. A link for payment for those classes will be included in the email. Once you receive that registration email you will be required to make online payment for the classes within 4 days of receiving the email notice.
Upon payment you will receive a confirmation email and details regarding in-person classes and Zoom links for your online classes. If you do not make payment by the deadline included in the registration email your seats will be made available to other members.
Requests to drop and/or add a class can be made by sending an email detailing your request to olli-online@udel.edu until July 9 at 4 p.m.
Requests for refund or membership and class fees may be made through Friday, July 9. No requests will be accepted after this date. Refunds are not guaranteed and will be subject to review.
Membership fee refunds are subject to a $5 administrative fee.