Good news — our program is growing!
Help us sustain and enhance our OLLI Lewes program for ourselves and future generations of lifelong learners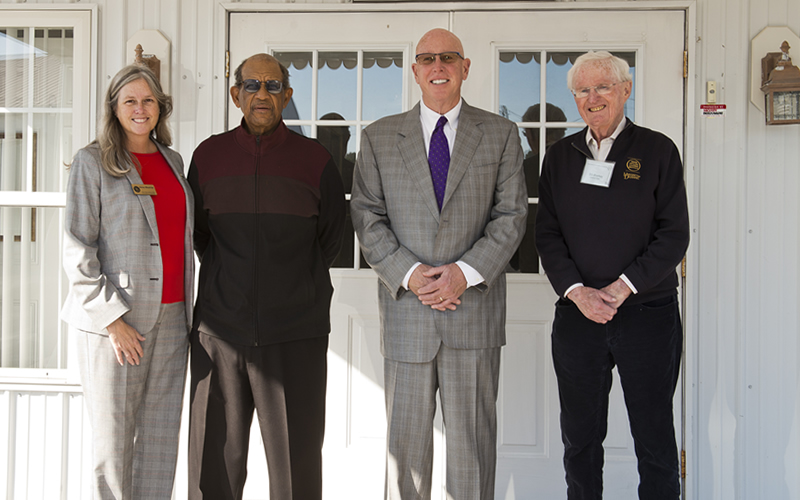 UD's OLLI program in southern Delaware has been based in Lewes since 1993, experiencing tremendous growth over the years. But as most of our current OLLI participants know, we are running out of space and parking at our current facility and we need to expand into new facilities which will allow us to grow OLLI membership in Sussex County.
To address our current and future needs, OLLI Lewes is adding new classrooms at Trinity Faith Christian Center on New Road, and we are asking OLLI members and friends to support our campaign aimed at preparing the new classroom facility for OLLI use.
Our predecessors broadened horizons by establishing the OLLI program 30 years ago; now we have an opportunity to expand horizons for future generations. Our Expanding Horizons fundraising campaign will allow the current OLLI Lewes program to thrive, and provide opportunities to grow our membership in the future.
Questions and answers
What does the new Trinity Faith Christian Center location provide?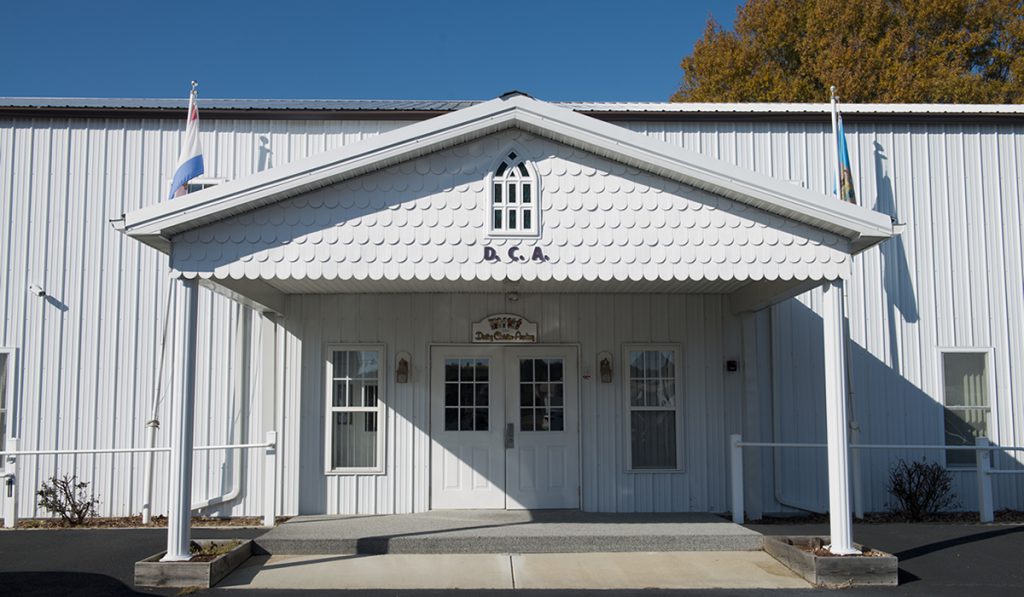 OLLI Lewes will benefit greatly from its new classroom partnership with Trinity Faith Christian Center on New Road in Lewes. The classroom building located at the Trinity Faith Church property on New Road contains four classrooms and holds great potential for our program needs, including:
Four spacious classrooms — two of the classrooms hold 25 attendees and two hold 50
Lots of space for parking — sufficient land to accommodate 120 additional parking spaces
Office space — room for both administration and tech support
Break room — larger area for break room and socializing
Convenient, nearby location — Trinity Education Building, 15516 New Road, Lewes, DE 19958
Why do we need a fundraising campaign?
We are planning to start holding classes at the new location in June 2020. Although the Trinity Faith Christian Center building and classrooms are in great shape, and the lease is already signed, we need to make a few modifications and add parking in order to prepare this facility for our use. The campaign includes:
Classroom improvements at Trinity church ($200,000) — Audiovisual equipment for four classrooms; furniture for classrooms, break room, library and office; and location signage
Infrastructure improvements at Trinity church ($100,000) — Improved parking, handicapped accessibility, internet installation

Why should I give?
Gifts from prior members and friends have enabled OLLI-Sussex to enjoy its current classrooms and parking and subsidizes membership fees to those in need. We need the generous support of current members and friends to help expand the physical space for the program in Lewes.
We're aiming high! — We have a goal of $300,000 and 100% member participation to donate in each of the three years, either through a 3-year pledge or an annual gift.
Why should I give if I have limited means? — Any gift, large or small, reflects a personal commitment to this extraordinary educational cooperative. Further, foundations and corporations are more likely to support the campaign if a high proportion of members contribute. All gifts (of all sizes) will help us achieve our goal.
Fred Thomas Building
Updated in 2021 — The OLLI program's official new Lewes location is the Trinity Faith Christian Center. We will also continue to offer selected classes at The Moorings and at UD's Lewes Campus. All spaces in the Fred Thomas Building are now used by Cape Henlopen School District.
Expanding Horizons Campaign — how to give
All gifts and pledges to the Expanding Horizons Campaign Fund from January 27, 2020 to December 31, 2022 count toward the campaign. Please contact the OLLI office in Lewes if you wish to make a multi-year pledge.
Other bequests, charitable annuities, and trusts do not count toward our current Expanding Horizons campaign, however, OLLI-Sussex welcomes such gifts as a part of its long-term planning. To learn more, please contact Nathana Jackson, Director of Gift Planning, at ndlane@udel.edu or 302-831-6093.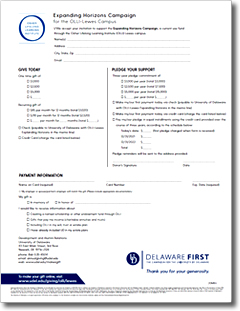 How to make a gift
By check — Please make all checks payable to the University of Delaware and note in the check's memo line OLLI Expanding Horizons Campaign. Mail to: Osher Lifelong Learning Institute: Sussex County; c/o University of Delaware; 83 E. Main Street, 3rd Floor; Newark, DE 19716
By phone — Call 302-831-2104 weekdays from 8 a.m. to 5 p.m.
Online — Via UD's secure online giving website, https://ud.alumniq.com/giving/to/20WBB
Gifts to OLLI-Sussex are tax-deductible to the full extent of the law.
If you have questions, you may contact:
Paul Collins, OLLI Lewes Development Committee Chair, pcollins155@gmail.com or 302-827-2212
TJ Cournoyer, UD Senior Director of Development, tjc@udel.edu or 302-831-7459
Martha Mitchell, UD Assistant Vice President, Office of Principal Gifts and Gift Planning, 302-831-8633 or martham@udel.edu
OLLI Kent/Sussex new Lewes-based location will be Trinity Education Building