Thank you for registering for UD OLLI Online!
To ensure a smooth start to the session when classes begin on September 8, please read the following instructions for participation:
Participate in Orientation Week, August 31-September 4! Orientation classes will be held at the same day and time as the class itself, using the same link that you will use once classes begin on September 8. Orientation classes provide an opportunity for you to test out your Zoom links to make sure they're working correctly as well as a chance for your instructors to review individual class procedures. While attendance at these classes is optional, we strongly suggest that you try to attend so that you can work out any connectivity issues now.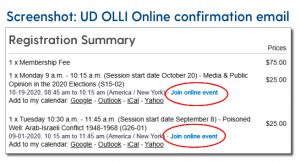 Class links were included in the confirmation email that was sent to you when you registered. If you did not receive this confirmation email, please contact us at olli-online@udel.edu so that we can re-send the information. Please save this email where you can easily retrieve it, so that you can access it readily each week; however, you will also receive a reminder email each week on Friday, just in case.
You will use the same link for your class each week. To attend class, simply click on "Join online event" next to the appropriate class at the scheduled time. Virtual classrooms will be open 15 minutes before the actual start time; we encourage you to sign in early to resolve any connectivity issues before class begins.
Zoom password — All classes require a password to attend. The password is the same for all fall classes –

20204

. Please enter that password when prompted after clicking your class link.
Missing your confirmation email? Check spam! — If you can't find your class links or confirmation email, please be sure to check the spam/junk/bulk/promotional folders in your email. Click here for details about how to check your email provider's "spam" mail folders.
Do not share your course link or password with those who are not registered in classes.
We hope that following these instructions will make attending class easy and trouble-free. If you do encounter technical difficulties when signing in to your classes, please see the FAQs on our website for help.
If that does not resolve your issue, you may contact us at olli-online@udel.edu to request assistance. We will respond to your requests as quickly as possible; however, we may be tied up with instructor support, which may cause some delay in response, particularly during the first few weeks. We appreciate your patience.