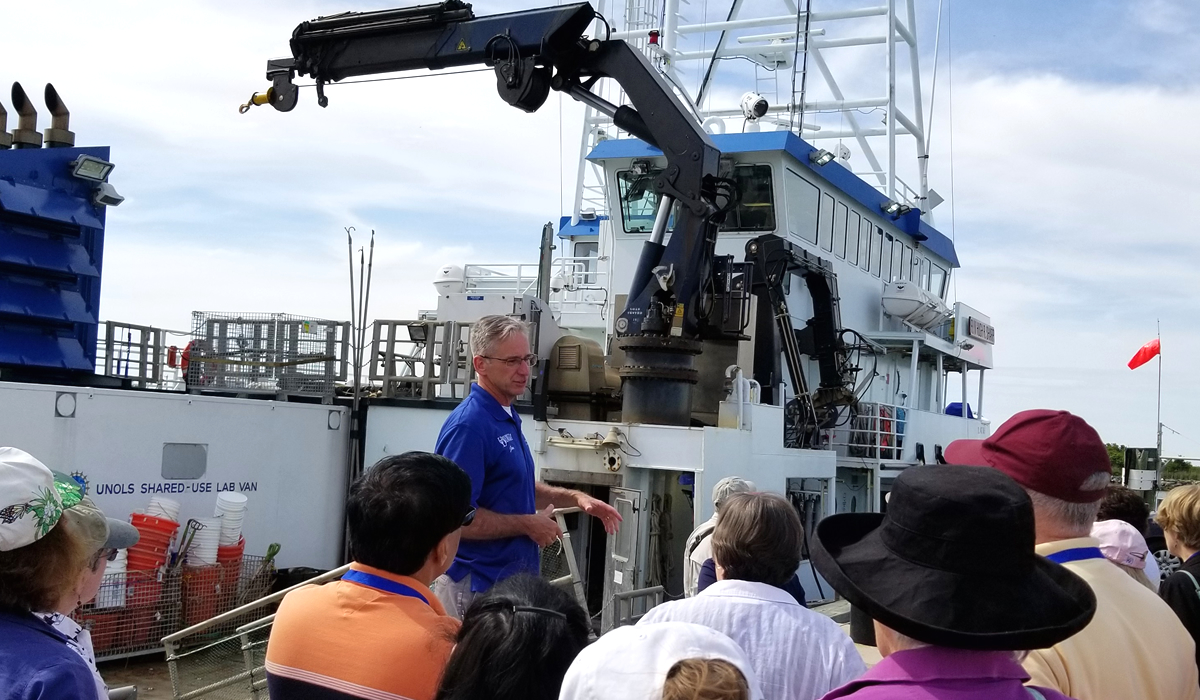 Ecology, music and Delaware learning tracks provide dynamic learning opportunities
Many students take a break from school during the summer, but at UD's Osher Lifelong Learning Institute (OLLI) program, the learning continues nearly all season long with month-long summer semesters in Dover, Lewes and Wilmington, plus a June lecture series at Arsht Hall in Wilmington.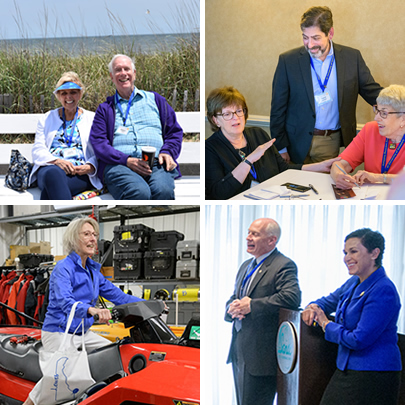 The summer's highlight was the new UD by the Sea four-day learning conference in Rehoboth Beach, Del., kicking off the summer and bringing together 140 OLLI members from across the state for a variety of dynamic sessions and social activities.
Showcasing experts from UD, OLLI and the community, UD by the Sea provided diverse learning tracks representing Delaware culture and history, music and the performing arts, and marine ecology topics.
From the ice cream to the conference tote bags and nearly everything in between, the OLLI event underscored strong UD connections.
UD presenters included Delaware Sea Grant educators and College of Earth, Ocean and Environment researchers, Resident Ensemble Players (REP) actor/director Michael Gotch, UD Cooperative Extension poultry agent Georgie Cartanza and more.
The ice cream served was the UDairy Creamery contest-winning OLLI Folly—that's dark chocolate espresso ice cream with toasted hazelnuts and chocolate chunks—, and the Lewes Plastic Bag Project totes were designed and created by a plastic-bag reduction initiative that grew out of efforts from UD marine science and fashion design students.
Delaware experts included Delaware Superior Court judges Paul R. Wallace and Vivian L. Medinilla, Delaware Symphony Orchestra music director David Amado and ILC Dover test lab manager and company historian Bill Ayrey, among others.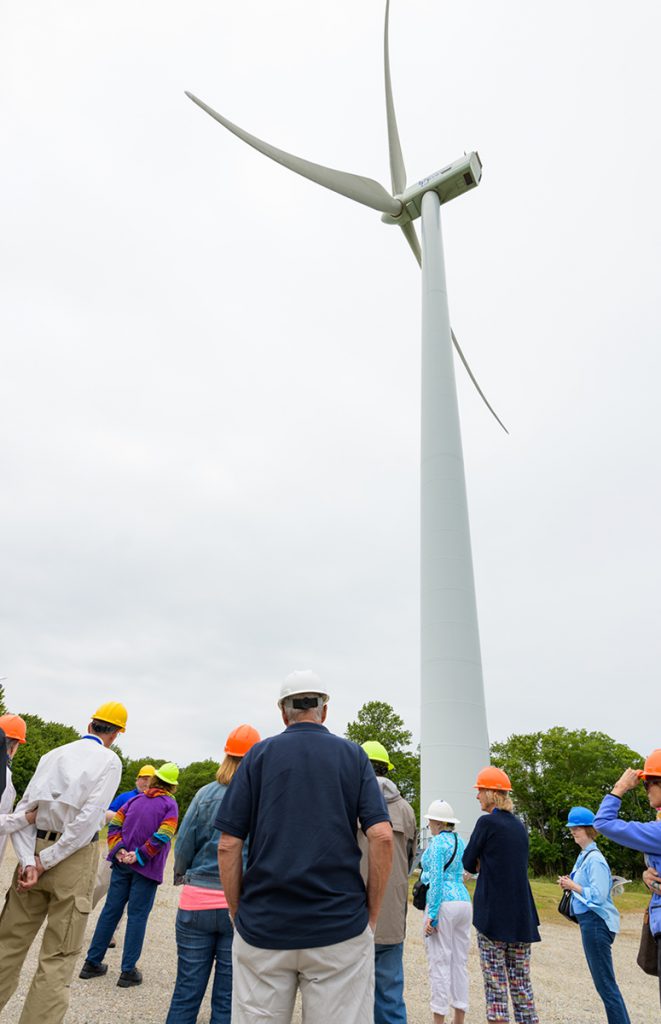 "Ecology by the Sea" learning track capitalizes on oceanside location
Capitalizing on the event's oceanside location and close proximity to UD's Hugh R. Sharp Campus in Lewes, the popular marine ecology learning track featured an array of hands-on activities and tours.
"Because of the location and all the available expertise, we wanted to take the opportunity to reinforce the connections between OLLI and UD, especially the College of Earth, Ocean and Environment," said Jennifer Merrill, manager of UD's OLLI program in Wilmington.
In addition to planned marine ecology-themed activities like the tour of UD's wind turbine site and Cannon Marine Studies Lab facilitated by UD's Delaware Sea Grant (DSG) program, an impromptu session presented itself when the ecology participants were en route between sites and noticed that UD's Research Vessel Hugh R. Sharp was docked on the Lewes campus.
Merrill, a former DSG research coordinator, contacted Jon Swallow, UD's director of marine operations, who met the group and led a question-and-answer session about UD's marine research programs.
"So many of our OLLI members are retired educators, engineers, chemists, Dupont fellows, Ph.D.s and experts in every subject imaginable," said Merrill. "And the questions they were firing off—about the research activities, propulsion system, electronics, navigation and more—really highlighted the depth of expertise within our OLLI community. Our members' talents and experiences enrich the UD community, while our OLLI programs offer a fantastic way for adults to continue to learn new things, serve the community and stay engaged."
Music and performance explored in "Words and Music"
OLLI members Debra Roberts of Dover and Connie Benko of Lewes collaborated to plan the Words and Music learning track along with OLLI Kent and Sussex County manager Anna Moshier. "It was exciting to be involved in the planning," said Roberts. "Once Connie and I reached out to our proposed presenters, not one of them turned us down. Each presenter was happy to take time from his busy schedule to prepare a presentation without any monetary compensation."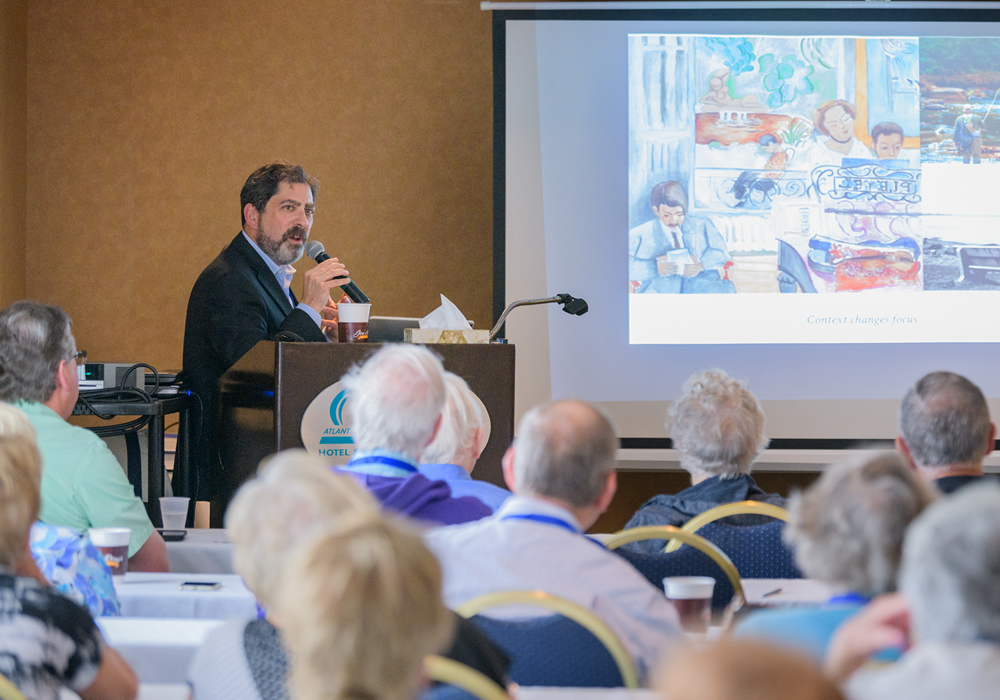 A session with David Amado, musical director for the Delaware Symphony Orchestra, was a highlight of the music and performance learning track. Discussing "The Art of Programming," Amado shared how orchestras select music to create a cohesive program each season, and led participants through an interactive activity to try their hand at orchestra programming.
"Dela-where?" sessions focus on Delaware history and culture
Myriam Medinilla, OLLI Wilmington council member and outreach chair, worked on the event with OLLI Wilmington manager Jennifer Merrill. "When we talked about the presenters, it occurred to me to suggest that my daughter, Judge Vivian Medinilla, could collaborate with us. I proposed it to Vivian, and she was happy to be able to cooperate in the event. She invited her colleague Judge Paul R. Wallace to participate, and together they created a captivating jury case-study activity for their session."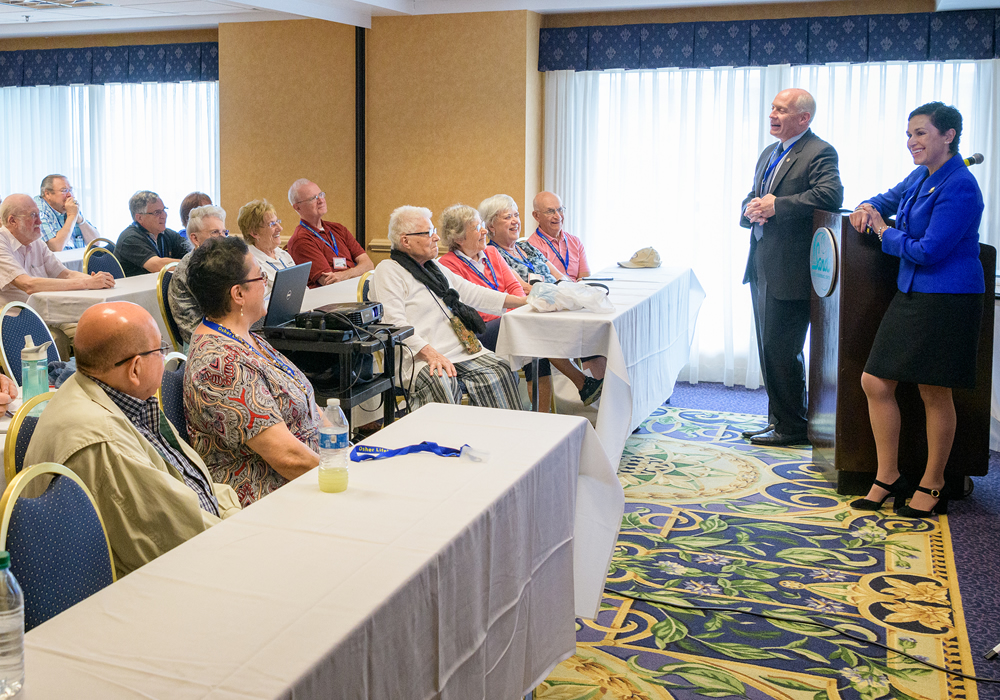 The judges' Jury Service in Delaware presentation was part of the well-received "Dela-where?" learning track, planned by Caroline Baxter of Dover, that also explored the Delmarva poultry industry, the Delaware Amish community, and the Delaware-based ILC Dover, the internationally-known technology company that designed and manufactured the Apollo space suits.
Linda Osoinach, a retired UD administrator and event attendee, applauded the scope of the Delaware-themed content, saying, "I've lived in Delaware for 34 years, and I really learned fascinating, interesting new things about my own state."
UD by the Sea took place May 21-24 at the Atlantic Sands Hotel and Conference Center on the boardwalk in Rehoboth Beach, and the location and pre-Memorial day timing were appealing to attendees. "For participants in general, and for me in particular, a highlight was the choice of program options, and the location right by the sea on the boardwalk was wonderful," said Ruth Flexman, OLLI member and instructor, and former OLLI statewide coordinator.
Making plans for next year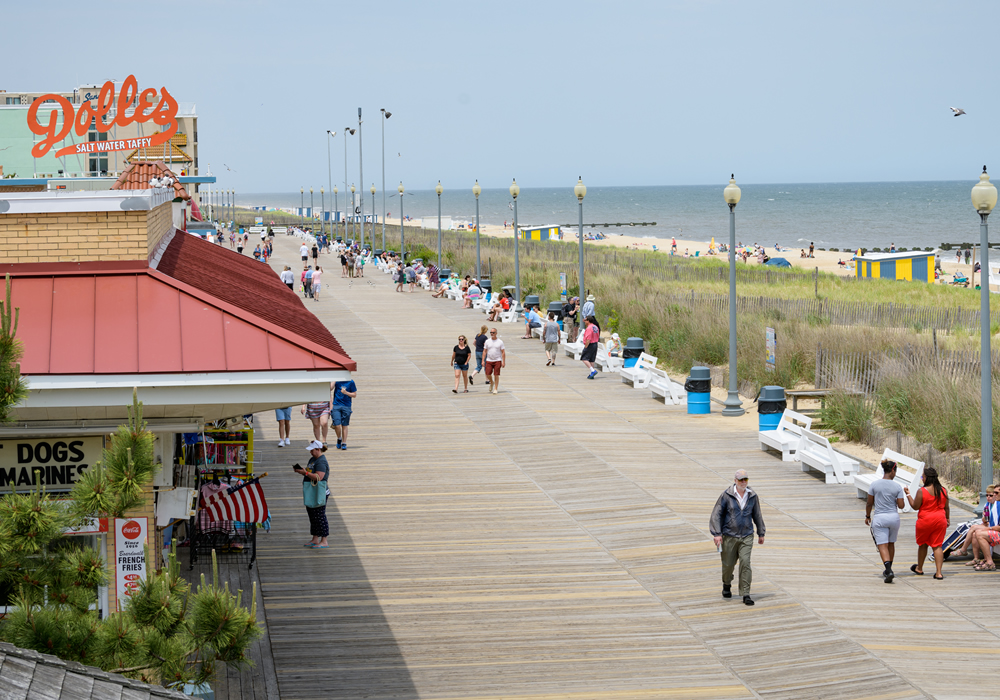 "We're already making plans for next year," said Moshier. "It was great to have the members get together and talk about our respective OLLI programs and learn from each other, but we want to open this event to the public in the future, to be able to showcase the rich learning opportunities here at OLLI and UD."
"We already have great ties to the community and to UD, and we're looking to strengthen those connections and establish new ones," added Merrill.
In the upcoming fall semester, at least two OLLI course offerings will highlight UD resources and connections.
Discovering UD is a new OLLI Wilmington-based course focused on allowing OLLI participants to learn more about University of Delaware collections and programs. Led by OLLI instructor Bob Taggart, professor emeritus in the School of Education at UD, participants will visit multiple departments and programs on UD's Newark campus, including museums and the theatre.
Another new OLLI class, Science of the Delaware Coast, will be based at UD's Hugh R. Sharp Campus in Lewes and will be facilitated by UD's Chris Petrone, director of the DSG's marine advisory service. The course will focus on Delaware coastal science from marshes and plankton to aquaculture and storms.
About OLLI at UD
Registration is still open for the fall semester at UD's OLLI programs, with most classes starting Sept. 3.
In New Castle County, OLLI courses take place at UD's Arsht Hall in Wilmington, with a variety of off-site courses hosted by community partners like Delaware Nature Society, Music School of Delaware and Fraim Center for Active Adults.
In Kent and Sussex counties, classes are held in Dover, Lewes and Ocean View, including community-based locations like Rehoboth Art League and The Moorings at Lewes retirement community.
UD's OLLI programs are membership-based organizations structured as learning cooperatives for adults 50 and over to take and teach classes together with no grades, exams or educational prerequisites. More than 900 courses were offered to over 4,000 members last year.
For more details or to receive a catalog, contact the Kent and Sussex county programs at 302-645-4111 or the Wilmington program at 302-573-4417 or visit the website at https://www.olli.udel.edu.
For an online photo gallery highlighting the 2019 UD by the Sea event, visit https://www.olli.udel.edu/ud-by-the-sea-2019-photos.
Article by Nora Zelluk
Photos by Evan Krape, Lynn Kroesen, Jennifer Merrill, Anna Moshier, Colleen Olexa and Allen Tweddle.