UD by the Sea—A four-day OLLI event at Rehoboth Beach

UD by the Sea—A four-day OLLI event at Rehoboth Beach
May 24-27, 2022 (Tuesday through Friday)
Atlantic Sands Hotel and Conference Center
1 Baltimore Ave., Rehoboth Beach, DE 19971
Designed by and for OLLI members, UD by the Sea provides OLLI members and guests with programming, activities and social time in Rehoboth Beach. UD by the Sea is sponsored by UD's Osher Lifelong Learning Institute (OLLI) in partnership with UD's Master of Arts in Liberal Studies program.
UD/OLLI health and participation guidelines
UD by the Sea is an event hosted by the University of Delaware's OLLI program. Please comply during our time together to continue to ensure a safe and healthy UD by the Sea experience for all!
Updated 5/23/2022 — Masks must be worn in all indoor settings at UD by the Sea (except while eating), including on event transportation.
All participants must complete the UD's Daily Health Check survey each day of participation. Paper forms will be provided for those unable to complete the form online.
Event presenters will be permitted to remove their masks when more than 6′ from attendees.
COVID-19 vaccinations and boosters are encouraged for all participants.
For those participating in off-site tracks or activities, please adhere to the health/masking guidelines presented by each facility, as they could vary from our policy.
Protocols are subject to change; any changes will be communicated via email and the UD by the Sea website.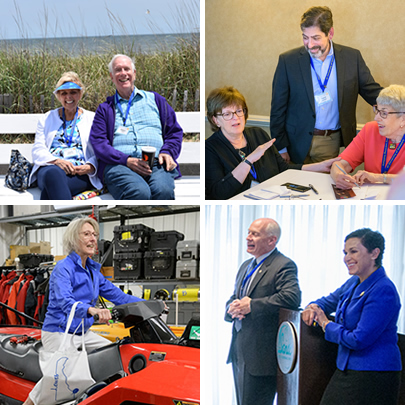 Registration for UD by the Sea includes:
Attendance at two days of topical programs with guest speakers
A choice of five educational programming tracks
Opening reception with entertainment, hors d'oeuvres and cash bar on Tuesday evening
Happy hour and "open mic night" on Wednesday evening
Buffet breakfast on Wednesday and Thursday mornings
Continental breakfast on Friday morning
Games and social activities
Fun, new memories and friends!
Attendees will participate in one of the following learning tracks:
Track 1 — Dela-Where? — Engaging speakers will present on a variety of subjects relating to Delaware's culture, history, environment, government and other topics related to the state. How much do you know about Delaware's fascinating history?
Track 2 — First-Class Arts in the First State — We'll pull back the curtain on Delaware's thriving art scene with visits from respected experts in music, theatre, dance and fine arts. From production to programming and creativity to conservation, our speakers will share their stories, get your toes tapping and your minds engaged in all things ARTS!
Track 3 — U.S. Foreign Policy and Relations [track full] — Intrigue and intricacy abound in the realm of U.S. foreign policy and relations. We'll explore international affairs issues currently facing the U.S. via sessions led by experts with extensive and insightful experience in the U.S. foreign service, academia and the U.S. military.
Track 4 — Horticulture: Gardens and Growers — Experience some of Delaware's finest horticultural gems and learn from gardeners and growers alike in this insightful, educational and nature-filled track. (This off-site program, which will involve bus transportation and walks on trails and unpaved surfaces, will require moderate individual mobility. Come prepared rain or shine. Field trip transportation provided.)
Track 5 — The First Town: Homes, Forts and Lighthouses [track full] — Explore how Lewes and the people who settled there have impacted the history of the area and the United States from the 17th century to today through its residents, structures, political positions and industries. Our tour of this First Town in the First State will feature visits to historic homes, forts, a lighthouse, a lifesaving station and a lightship, highlighted by amazing views from the East End Lighthouse and the Fire Tower. (This off-site program, which will involve bus transportation, walks on trails and unpaved surfaces, and OPTIONAL stair climbing in the East End Lighthouse and the Observation "Fire Tower" at Fort Miles, will require moderate individual mobility. Come prepared rain or shine. Field trip transportation provided.)
Registration details
UD by the Sea registration — OLLI members — $125 per person
UD by the Sea registration — guests — $150 per person (limit of one guest registration per member)
Please note that the above rates are for the UD by the Sea program only and do not include hotel accommodations. See below for details about hotel accommodations.
Priority registration for OLLI members
Priority registration will be extended to active OLLI members and one guest, with members considered active if they registered for either Fall 2021 or Spring 2022 sessions including OLLI Online or OLLI Kent/Sussex or OLLI Wilmington. Individual OLLI members may register for UD by the Sea for $125, and may register one guest for $150.
February 9-21—priority registration—Registration requests will be accepted online, beginning Wednesday, February 9 and ending Monday, February 21 at 3 p.m.

Members will request registration and indicate their preferred program track.

Late February—lottery for program tracks—Program tracks will be assigned by priority using a lottery for OLLI members and their guests.
Early March—program track or waitlist assignments—OLLI will respond to all requests with either an invitation to register and complete payment, or a waitlist position.
Confirmation and payment—4-day window—In order to complete their registrations and guarantee their track reservation, members will have 4 days to respond to the registration invitation, confirm their participation, and complete online payment for the program. If registration is not confirmed and payment is not completed, the registration invitation will expire and be used for the next request on the waitlist.
Public registration—In early March, remaining open seats will be made available to the public.
Cancellation Policy—Cancellation of UD by the Sea payment for a full refund is available until April 24, 2022. After this date, the refund amount will be 50% of the total amount paid. In the case of participant illness prior to May 24, an exception to the policy will be made and a full refund granted.

Accommodations at the Atlantic Sands
Participants are responsible for accommodations, with the option to make reservations directly with the Atlantic Sands Hotel immediately following registration confirmation, or may make other hotel arrangements if desired. Hotel room reservations are available at the Atlantic Sands for $120 per night per room.
OLLI members and guests are strongly discouraged from booking hotel rooms before their program registration is confirmed in February.
If you have questions about UD by the Sea 2022, please contact lll-wilm@udel.edu.