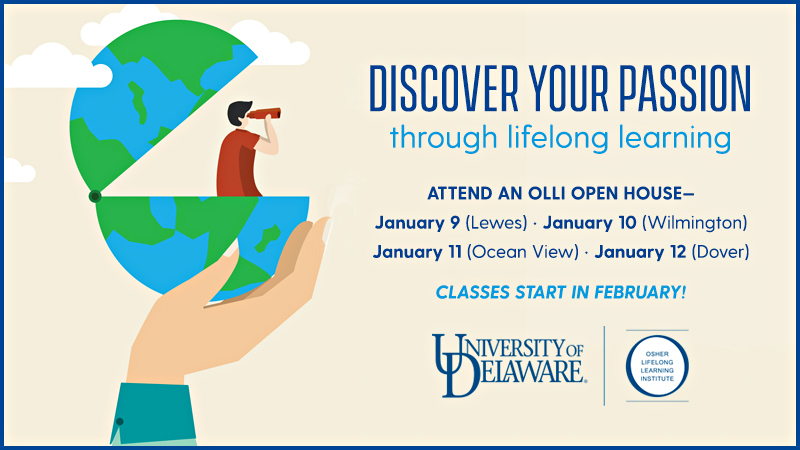 Registration begins Jan. 5 for UD lifelong learning spring classes
Registration begins Jan. 5 for the University of Delaware's lifelong learning program for age 50-plus. More than 300 classes are offered this spring, with no grades, exams or educational prerequisites.
As a volunteer-driven learning cooperative, UD's Osher Lifelong Learning Institute (OLLI) program has nearly 2,000 active members and holds classes and activities in Dover, Lewes, Ocean View, Wilmington and online. For the first time, four classes will also be held in Newark.
OLLI spring classes begin Feb. 6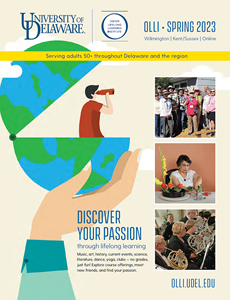 With volunteer instructors at the heart of the program, the expertise from their professional careers, educational backgrounds, avocations and passions provide the source material for the breadth and depth of OLLI's class offerings. A small sampling includes:
History — Civil War, Pompeii, JFK, Texas Rangers, CIA, racism, French revolution
Art — painting, woodworking, photography, cardmaking, stained glass
Music ensembles — rock band, orchestra, chorus, guitar
Languages — American Sign Language, French, German, Italian, Spanish
General interest — genealogy, current events, book club, writing, investing
Science and nature — birding, physiology of stress, water ecology, electric vehicles, weather
Wellness activities — yoga, tai chi, English country dance, Pacific Island dance, meditation
Classes start Feb. 6, click here for the complete catalog listing.
Attend an open house Jan. 9-12
The community is invited to learn more about OLLI at open houses held at OLLI's classroom locations in Lewes (Jan. 9), Wilmington (Jan. 10), Ocean View (Jan. 11) and Dover (Jan. 12). Visitors can tour classrooms, meet volunteers and fellow participants, and pick up a course catalog. In-person registration will be available. Click here for more details about the open houses.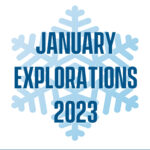 'January Explorations 2023' free OLLI sampler, Jan. 10-19
Current, past and prospective OLLI members are also invited to learn more about OLLI by attending virtual mini-courses in January. "January Explorations 2023" is a free sampler of online short classes – one to two sessions each – taking place Tuesdays, Wednesdays and Thursdays starting January 10. All sessions take place online via Zoom, with first-come first-served attendance. Click here for a full description and how to participate.
Registration for OLLI spring semester begins Jan. 5
OLLI's spring semester begins on Feb. 6 with 13-week, 11-week and five-week sessions. A second five-week session starts April 3. To register for OLLI classes, participants sign up for OLLI membership each semester for a flat membership fee of $250 for the semester, which includes unlimited classes and activities at all UD OLLI locations and online. A few classes may have an additional fee noted in the course description, for supplies or for special partnership programs. There is no cost for parking at UD OLLI locations. Need-based financial assistance is available. Click here for more information, including how to register.