'Why we love OLLI' — in our OLLI members' words
OLLI is all about fun and fascinating classes, plus friendship and camaraderie — no exams or grades. In this video, eight OLLI members share what they love about the OLLI program.
As a volunteer-driven learning cooperative for age 50-plus adults, UD's Osher Lifelong Learning Institute (OLLI) program is home to more than 2,000 active members and volunteers who are enthusiastic about the fun, learning, and social opportunities at OLLI. We invite both new and returning members to join the many lifelong learners at OLLI who have already discovered our fun classes and enrichment opportunities.
Judy Diner
What do I love about OLLI? I think of OLLI as my rainbow connection. It has taken me places where I never thought I'd go, introduced me to people I never thought I'd meet, enabled me to connect as an instructor with a language I hadn't spoken for 30 years, French. So it's just full of wonderful opportunities for learning, challenge, and growth on every level.
Lloyd Maier
Twenty years ago I came to OLLI for a casual, "let's see what's going on." And I got involved in music again, I started playing the oboe again, I started teaching again. And it's changed my life. It has been the center of my life for 20 years and it has been wonderful.
Lew Martin
What do I love about OLLI ? I have to say it's the people, wonderful people from all generations even. And I like it because I get a diverse response to almost any question that's asked, including why I like OLLI. But personally, it's because of the people, the diverse classes offered and the opportunity to be a part of a wonderful organization.
Linda Kellogg
I remember the first day I started that I was so excited to have the opportunity to learn some new things. But I was most enthused by the people who were here and the excitement that they generated. So I encourage you to join and give us a try.
William Tamblyn
I've been a member of OLLI since 2015, that was the year I retired. I often look at OLLI as actually saving my sanity after retirement because not only were the classes good, but also it gave me a regular routine to transition into retirement.
Rita Meek
I have been a member of OLLI since 2014 when I retired. And it's the best thing that I do. I look forward to every class. I have had so many wonderful classes and wonderful opportunities to meet people. And it is definitely the anchor that keeps my week going forward. I tell people that this is just a wonderful thing to do in retirement and that they should give it a try. And they will find something that they think is terrific.
Thom Remington
The thing about OLLI that I really, really like, and I've been noticing this more and more is that the spirit of OLLI is, if somebody knows about something, they're going to share it, they're going to help other people learn it. And if you don't know about something, you go to somebody who is interested, who is deep into that and they share their thoughts, their ideas with you. What do I like, what do I tell people about OLLI? That's it. It's a place where you come to learn and to share your knowledge and information and skills. It's been a lot of fun and I'm looking forward to keeping coming.
Chuck Miller
I never thought retirement could be so much fun and so challenging. And I really thoroughly enjoy it and would recommend it for anyone. So that's my recommendation. Enjoy yourself!

---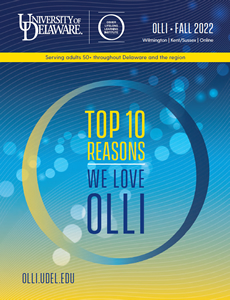 Join us at OLLI this fall — register now!
Join OLLI for fun and learning — online, in-person or both!
Mark your calendar, classes start September 6