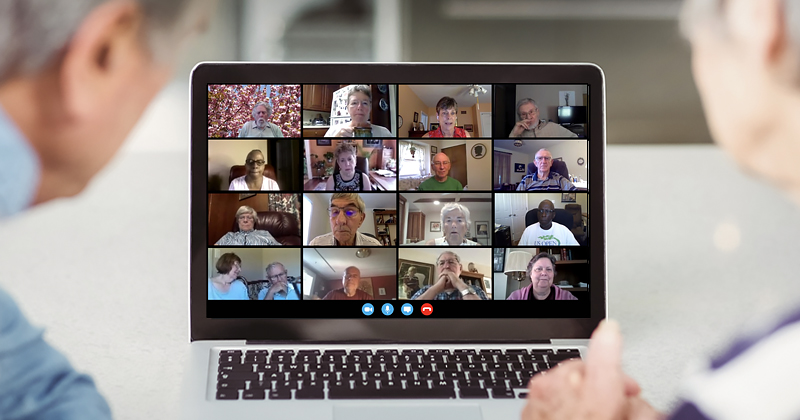 Fun, online learning opportunity for age 50-plus
UPDATED — This article was updated on 8/17/2020 to indicate that first-come, first-served registration will open Wednesday, August 19 at 10 a.m.
This fall the University of Delaware's lifelong learning program for adults age 50-plus is holding all courses and activities online, with course topics ranging from iPhone photography to salsa dancing to genealogy.
Classes start September 8 and October 20, and registration begins August 19 at 10 a.m. Online course listings will be available beginning August 12.
UD's Osher Lifelong Learning Institutes – affectionately nicknamed "OLLI" – are volunteer-based learning cooperatives for adults to take and teach classes together with no grades, exams or educational prerequisites. UD OLLI programs are located across Delaware.
Successful summer online pilot program
When UD's on-site OLLI programs were put on hold this spring due to the coronavirus pandemic, staff and instructors moved quickly to launch an online program. This summer, the UD OLLI Online pilot program enrolled nearly 750 participants in over 40 online courses and activities.
"I felt like a kid going into my favorite candy shop as I turned on my computer and signed in for my first OLLI class since March," said Sue Dagenais, a retired educator and OLLI member from New Castle County. "I was so excited to be with old friends and to take classes of such interest to me."
OLLI's summer online offerings included the hugely popular Movies and Opera class taught by retired UD professor Larry Peterson and Photographic Conservation with Winterthur taught by retired UD professor Rebecca Worley with Debra Hess Norris, world-renowned conservator and UD's Unidel Henry Francis du Pont Chair in Fine Arts.
OLLI classes translating well to online format
The videoconferencing format was new to some OLLI participants, but instructors and students adapted quickly, crediting OLLI staff and volunteers for providing the needed technical support and virtual hand-holding.
"Being technically savvy may not be high on some of our resumes," said Karen Schaub, who usually participates in both the OLLI Kent County and Sussex County programs. "But we are a resilient group of learners. We rolled up our sleeves, put on our reading glasses and began a new learning opportunity. Soon instructors were sharing their screens for slideshows and videos, creating breakout rooms for group discussions and doing what they enjoy, which is sharing their passions."
"The quality of the classes has not changed," said Craig Lewis, retired engineer and OLLI instructor. "The content and presenter effectiveness are the same, possibly slightly better, due to everyone now having a front-row seat." This summer, Lewis taught an OLLI class on dinosaurs, as well as participated in five other online courses.
"I am amazed at how much I'm enjoying the virtual interaction," said Marge Felty, an OLLI member based in Kent County. "We're navigating new territory together and learning in the comfort of our own homes." In addition to taking OLLI classes, Felty hosts a biweekly 'Whatever Makes You Happy Hour' with fellow OLLI member Susan Watkins. Felty says the sessions have helped maintain the social connectedness that is so much a part of the OLLI program.
More than two hundred UD OLLI Online courses are offered this fall in subjects like African American Literature, History and Music; Band for Beginning Players; Craft Circle, Languages (French, German, Italian, Latin, Spanish); LGBT Films; Investing; Science of the Delaware Coast and Tai Chi.
Past OLLI membership is not required to join UD OLLI Online. OLLI gift certificates are also available. For details about UD OLLI Online, visit the new UD OLLI Online website.