Self-improvement as a lifelong endeavor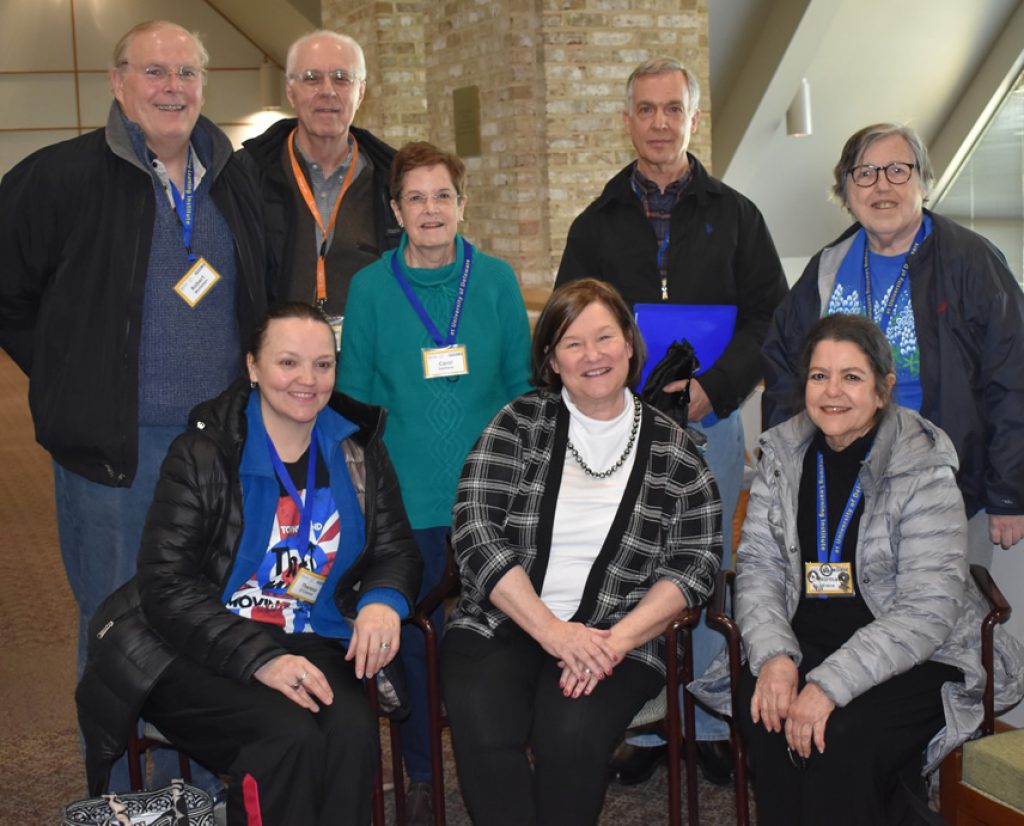 Last fall, UD's Wilmington-based Osher Lifelong Learning Institute program (OLLI) became the first OLLI program in the country to start a Ben Franklin Circle discussion group, modeled after Benjamin Franklin's 18th century conversation club focused on civility, virtues and mutual self-improvement. The 21st century version was founded at New York City's 92nd Street Y, and now boasts about 150 chapters across the country.
OLLI member Diane Senerth had read about Ben Franklin Circles in a New Yorker article and immediately thought of her fellow lifelong learners at OLLI.
The Ben Franklin Circle Discussion Group at OLLI Wilmington began meeting as an extracurricular activity last semester and continues this spring on its path of exploration and discussion of Ben Franklin's 13 virtues — temperance, silence, order, resolution, frugality, industry, sincerity, justice, moderation, cleanliness, chastity, tranquility and humility.
Since the launch of OLLI Wilmington's group, facilitators from 92nd Street Y's Ben Franklin Circle program have been consulting with UD's OLLI program as a potential model for launching Ben Franklin Circles at other OLLIs across the country.
Senerth shared the group's experience in the article "Ben Franklin Circles as Lifelong Learning," originally published on the Ben Franklin Circles' blog.
---
Ben Franklin Circles as Lifelong Learning
By Diane Senerth
Although Ben Franklin was a young man of 21 when he started his Junto discussion club, he may have been ahead of his time. It is a bit unusual for young people to have the maturity and experience to value a virtuous life. That is often the purview of those whose life experiences have brought them to a place where they appreciate virtue in themselves and others.
In 1727 Franklin formed a weekly mutual-improvement club made up of individuals with an array of interests and skills. Now, almost 300 years later, Ben Franklin Circles around the country are revisiting Ben Franklin's 13 virtues as tools to enrich members' lives and their communities. That is why, when I read about Ben Franklin Circles in The New Yorker magazine, my first thought was starting one at the University of Delaware's OLLI program in Wilmington. The two programs are a wonderful match!
I was uncertain how the community would respond, but I need not have worried. We met monthly and began with the virtue of humility – which Franklin identified as the gateway virtue. That first meeting was eye-opening. I realized as soon as the discussion began that we had so much wisdom and experience in the room. Members brought their professional knowledge, their parenting and grandparenting expertise, and lifetimes of challenges and successes. These were people who were able to reflect on all of life's lessons and who were willing to share their journey with others.
And perhaps most impressive, these were people who were still willing to travel farther along on the path of self-improvement. As we discussed humility, one lifelong executive reflected on how little opportunity he had to be humble in his career. He committed to listening more and talking less in the month to come. When we were discussing temperance, a member made a commitment to encourage the virtue in her grandchildren by modeling delayed gratification rather than immediate gratification. Our discussion of silence uncovered many deep feelings about solitude.
It has been truly moving to be in a room of talented, intelligent and wise people who are willing to recognize that self-improvement is a lifelong endeavor. As we age, there can be a tendency to believe that we have become who we will always be. It is inspiring to think that we are still capable of becoming better. Ben Franklin Circles offers a framework for living a more virtuous life – one that has been fully embraced by my OLLI community.
If you are a member of a lifelong learning community, I encourage you to share the Ben Franklin Circle experience with your fellow learners. The Ben Franklin Circle website provides ample guidance for group facilitators, and I have found much support in the room as we learn together. Facilitating has given me the opportunity to practice the virtues we have worked on so far. I have deepened my humility, been temperate in my expectations, and created the silence into which poured the wisdom of others.
I am grateful for the experience.
Diane Senerth is an OLLI member and community volunteer who has taught Spanish at The College of New Jersey and served as executive of a nonprofit foundation.