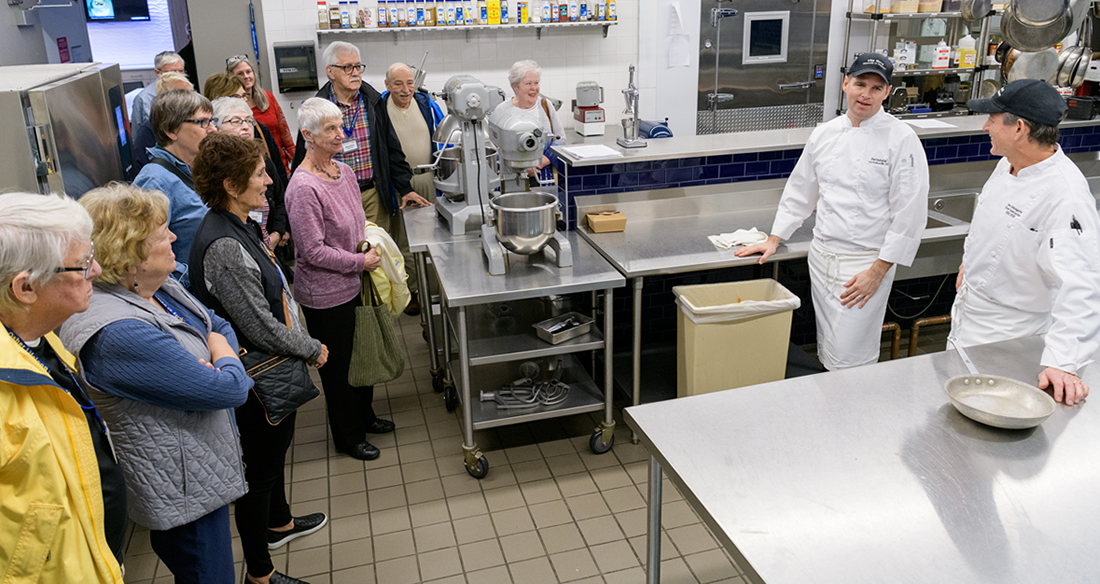 OLLI Wilmington "Discovering UD" class visits campus venues
From aviation history and Broadway lyrics to birding, yoga and investing, the more than 900 annual course offerings at the University of Delaware's Osher Lifelong Learning Institute (OLLI) program are determined by member interest as well as the passions and expertise of OLLI's volunteer instructors.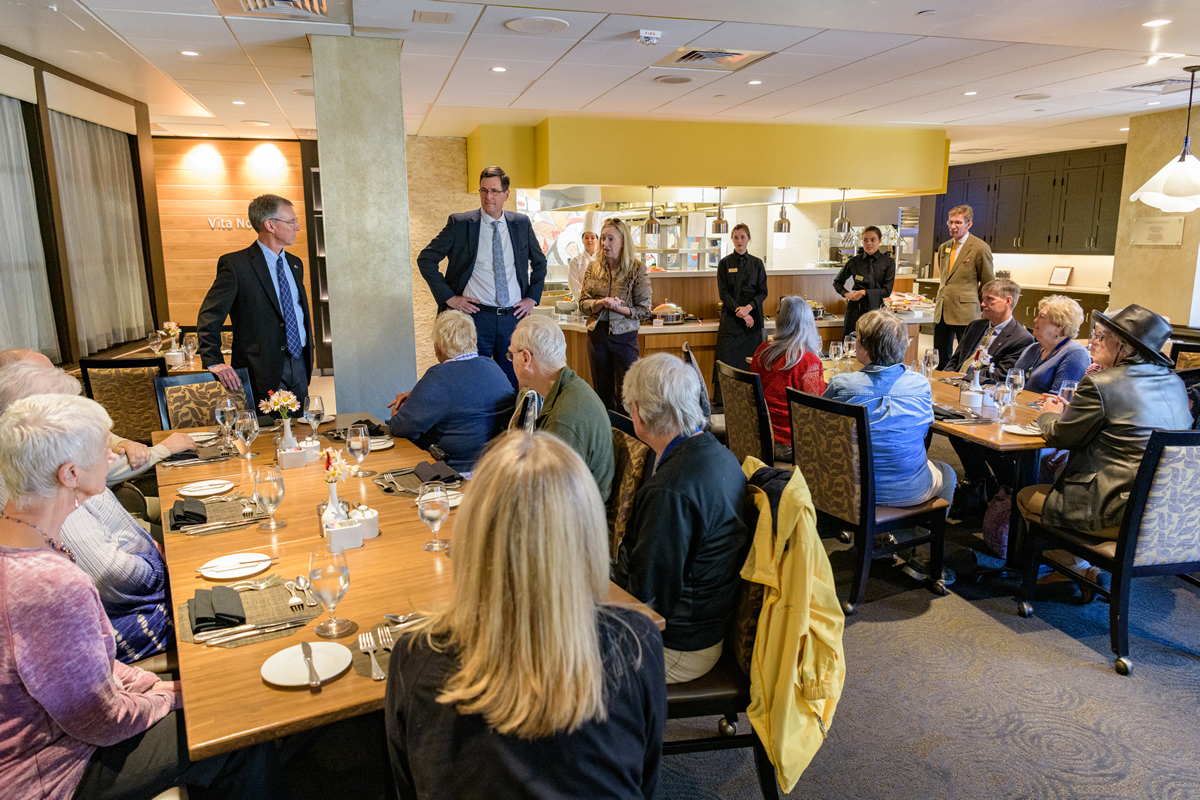 Last semester, the subject of one new course was UD itself.
The idea for the "Discovering UD" class came from Jen Merrill, manager of UD's New Castle County OLLI program based at Arsht Hall in Wilmington.
"The majority of UD's OLLI members may not necessarily have a strong connection to UD other than their OLLI participation," said Merrill. "They may read news headlines about the great research coming out of UD, but beyond that, the assets and expertise of the UD community are mostly unfamiliar."
The two experts tapped to facilitate the new class are retired University of Delaware professors who are also members and instructors in the Wilmington-based OLLI program, Larry Peterson and Robert Taggart.
Bob Taggart, UD associate professor emeritus of education, led the first Discovering UD class last fall, serving as ambassador to the UD campus for an enthusiastic cohort of 27 OLLI participants. "I chose UD venues that I, myself, wanted to know more about, as well as campus locations or programs that I thought my students could visit again," said Taggart.
The course format alternated between introductory presentations by UD experts first visiting the OLLI class at Arsht Hall, paired with a corresponding Newark campus site visit at the next class.
"Behind the scenes" experience
Last fall's OLLI participants visited UD's Botanic Gardens, UDairy Creamery, UD Resident Ensemble Players (REP) professional theatre company, Old College Gallery and Mechanical Hall Gallery, Vita Nova, Mineralogical Museum, and the Special Collections Gallery in UD's Morris Library.
The feedback has been overwhelmingly positive, said Merrill. "UD has a lot to be proud of, and OLLI members are an appreciative audience. I was sure our OLLI members would get a much better picture of UD by meeting the individuals and teams behind the work and visiting the facilities."
Many participants were especially enthusiastic about the behind-the-scenes view of the University. As one OLLI member shared after the tour of UD's REP professional theatre company, "I'm going to the REP for the first time ever due to this class."
Other OLLI members were surprised and impressed at the number of UD venues that are open to the public, many of them for free. Some planned to return with family members to revisit exhibits.
A huge class favorite was the visit to UD's Vita Nova student-operated fine-dining restaurant, where the class received a personal tour of the restaurant kitchen by Vita Nova chef-instructors John Deflieze and Joe DiGregorio, and afterward dined at the restaurant.
SLIDESHOW — OLLI "Discovering UD" class visits UD's Vita Nova Restaurant
Spring "Exploring UD" class starts February 13
Plans for the next offering of the class are already set, with Larry Peterson, UD professor emeritus of music, to lead the spring cohort. "My goal is to introduce OLLI members to the impressive assets at the Newark campus," said Peterson.
With the exception of repeating last semester's Vita Nova and UDairy Creamery visits, Peterson's syllabus will include new venues like the STAR Tower, the Department of Fashion and Apparel Design's Historic Costume and Textiles Collection, the "Votes for Delaware Women" exhibit on display at the Special Collections Exhibition Gallery and other sites.
Peterson's class will feature guest UD experts like Anne Boylan, professor emerita of history, presenting on "Votes for Delaware Women," and Amanda Zehnder, chief curator of special collections and museums for UD's Library, Museums and Press, speaking about Cuban paintings and posters inspired by classic Hollywood films. The spring class, retitled "Exploring UD" for the upcoming semester, begins on Feb. 13.
OLLI Sussex County to offer "UD Potpourri" class
In Sussex County, the Lewes-based OLLI program offers a similar "UD Potpourri" class, hosted at UD's Hugh R. Sharp Campus in Lewes. At each class, UD speakers will present on a topic related to their research or academic expertise. This semester's subjects include reef real estate, wind energy, plastic pollution, strategies for staying healthy and independent, the Delaware poultry industry, UD's new Master Naturalist program and more. The Lewes class starts on Jan. 29.
UD's OLLI programs are membership-based organizations structured as learning cooperatives for adults 50 and over to take and teach classes together with no grades, exams or educational prerequisites. More than 900 courses were offered to over 4,000 members last year. Classes generally meet once a week, with extracurricular activities and events offered throughout the semester. Partial scholarships are available.
In New Castle County, OLLI courses take place at UD's Arsht Hall in Wilmington, with a variety of off-site courses hosted by community partners like Delaware Nature Society, Music School of Delaware and Fraim Center for Active Adults. In Kent and Sussex counties, classes are held in Bridgeville, Dover, Lewes and Ocean View.
For more details or to receive a catalog, contact the Wilmington program at 302-573-4417 or LLL-wilm@udel.edu, or the Kent and Sussex county programs at 302-645-4111 or LLL-lewes@udel.edu, or visit the website at https://www.olli.udel.edu/spring2020/.
Article by Nora Zelluk
Photos by Evan Krape