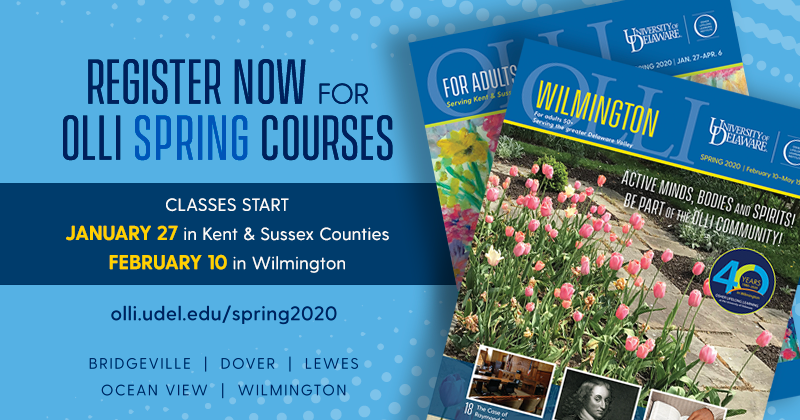 OLLI course catalogs available now, January open houses set
Registration is open now for spring classes at the University of Delaware's Osher Lifelong Learning Institutes (OLLI). Classes start Jan. 27 in Kent and Sussex counties and Feb. 10 in Wilmington.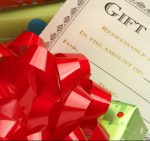 Prospective members can visit the programs, and register on the same day if they wish, at an open house on Jan. 7 in Wilmington, Jan. 8 in Lewes or Jan. 9 in Dover, all scheduled for 10 a.m. to 1 p.m.
UD's lifelong learning programs are membership-based organizations structured as learning cooperatives for adults 50 and over to take and teach classes together with no grades, exams or educational prerequisites. More than 900 courses were offered to over 4,000 members last year.
In New Castle County, OLLI courses take place at UD's Arsht Hall in Wilmington, with a variety of off-site courses hosted by community partners like Delaware Nature Society, Music School of Delaware, Fraim Center for Active Adults and Delaware Art Museum.
In Kent and Sussex counties, classes are held in Bridgeville, Dover, Lewes and Ocean View.
Examples of spring offerings include:
Bridgeville ― Salsa Dancing, Memoir Writing, JFK Assassination
Dover ― Tai Chi, Martin Luther King Jr., Genealogy, Botany Walks, Lego Robotics
Lewes ― Basket Making, Meditation, French Revolution, Elder Law, Great Presidents
Ocean View ― Creative Bead Weaving, Civil War Topics, Savvy Caregiver
Wilmington ― Aviation History, Desktop Publishing, International Folk Dance, Exploring UD, Watercolor Workshop, Investing Fundamentals
Financial assistance options are available at all locations.
For more details or to receive a catalog, contact the OLLI Kent/Sussex program at 302-645-4111 or olli-kent-sussex@udel.edu, or the Wilmington program at 302-573-4417 or LLL-wilm@udel.edu, or visit the Register for OLLI Spring 2020 classes webpage.