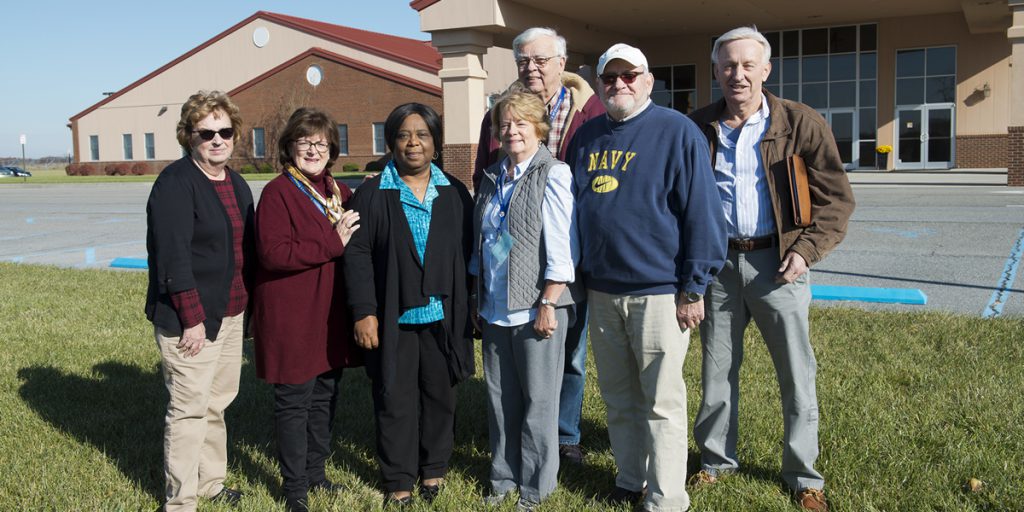 Pictured in front of OLLI Kent County's home at Wyoming Church in Dover is the Member Relations Committee of Caroline Baxter, Deb Roberts, UD administrative assistant Diana Faison, Marge Felty, Joe Bailey, Pat Weaver and Thomas Garrison.
UD's Dover OLLI program celebrates 10 years of lifelong learning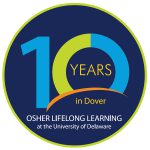 UD's Osher Lifelong Learning Institute program is proud to celebrate a milestone anniversary for OLLI programming in Dover in 2020, marking 10 years since OLLI Dover classes were first offered in 2010.
Retired teacher and administrator Larry Koch was instrumental in the program's founding, taking the lead in forming OLLI Dover's founding committee of UD staff, potential members and community leaders. The Modern Maturity Center, Delaware State University and other community stakeholders were important partners in establishing the mission and vision for the program.
Its first home at the Modern Maturity Center gave the OLLI Dover program a central Kent County location from which to grow its early roster of members, instructors and courses. Having since relocated to the Wyoming Methodist Church, the program has continued to expand both its membership and its course offerings, from 19 courses in 2010 to its current slate of 40 courses planned for Spring 2020. OLLI Dover continues to enrich the lives of its members.
Membership Relations Committee chair Joe Bailey recalls his first experience with OLLI, "A friend suggested I investigate Osher for a class on reminiscence writing. I was two weeks late starting the 10-week class, and I was soon hooked. I took every writing class they offered, and a bunch of other classes besides."
"Each term I vow to not take more than eight classes," added Bailey. "This past term I kept it to nine. With over a hundred from which to choose, keeping it to only nine was a challenge. OLLI can become an addiction."
"The Lewes/Ocean View and Dover programs have forged a strong partnership now exceeding over one thousand members," said Anna Moshier, current manager of UD's OLLI programs in Kent and Sussex counties. "We remain committed to ensuring that lifelong learning opportunities are accessible to all of Southern Delaware."