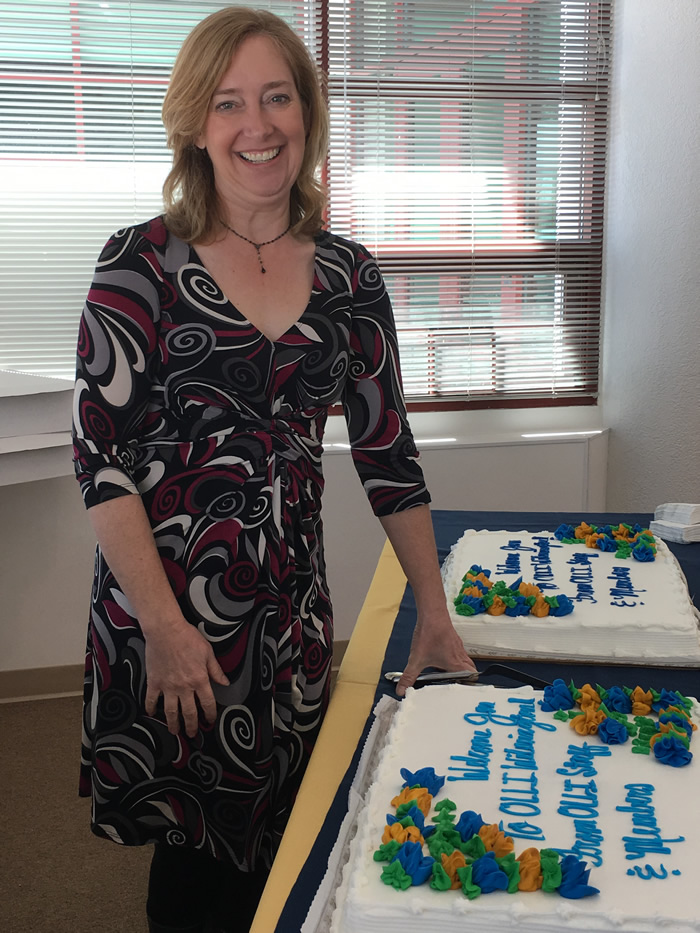 UD's Osher Lifelong Learning Institute and Division of Professional and Continuing Studies are pleased to welcome Jennifer Zelenke Merrill to succeed longtime OLLI Wilmington manager Carol Bernard.
"Using valuable input we received from the OLLI staff, OLLI Council members and other OLLI members, we not only looked for a person with the right leadership and administrative experience, but also with the right personality for a job that requires a lot of listening, caring, dedication and foresight," said Anita Sterling, OLLI Council member who served on the search committee along with fellow OLLI Council member J. Harry Feldman.
Merrill's first official day as the new OLLI Wilmington manager was March 20.
"I am excited to transition into the role of OLLI manager and am very much looking forward to getting to know the staff and OLLI members," said Merrill. "Supporting and developing partnerships for adult education programming is an excellent application of the variety of roles I have undertaken, both at the University of Delaware and as a founding member of a Delaware nonprofit. My background in managing successful committees, volunteers and advisory boards drew me to the Osher team. I found the interviews enjoyable and am looking forward to harnessing even more of UD's capabilities and resources for OLLI. This organization and its members are valuable contributors to the University of Delaware and I intend to work with the team at Professional and Continuing Studies to increase the recognition of the program on campus," she added.
Since 2011, Jen has worked in UD's College of Earth, Ocean, and Environment, managing research for the Delaware Sea Grant program, serving as the college's Chief Diversity Advocate, and representing the College and Sea Grant in the university's community engagement initiatives. Prior to joining the UD staff, she completed a fellowship on Capitol Hill in the office of U.S. Senator Carl Levin and lectured at the University of Maryland. She was Senior Program Officer at the National Academy of Sciences' Ocean Studies Board, managing programs that explored topics such as the effects of ocean noise on marine mammals, impacts of oil on natural ecosystems, international ocean exploration programs, and biotechnology applications for marine natural products.
On the personal side, Jen is originally from the Hudson Valley of New York, has lived in western New York, Maryland, California and most recently Washington, DC. She moved to Smyrna, Del., from Washington, DC, in 2005. She has three sons who all attend school in Smyrna. "My preferred habitat is outdoors, in the woods or on the water," said Jen. "I enjoy traveling, cooking, and new adventures of all kinds. I have been fortunate to have been able to rock climb, zip line, hike, camp and kayak in a number of fantastic locations. I have introduced my boys to these activities through Scouts and on our own. My bucket list includes trips to Thailand, Alaska, Ireland, Switzerland and returns to Japan and Italy. Trekking through Great Britain is high on my list as well."
After arriving in Smyrna and before starting to work for UD, Jen organized and led the all-volunteer committee that continues to raise money for the construction and operation of a new regional library for southern New Castle and northern Kent counties in Delaware.
Jen earned her B.S. at the State University of New York College of Environmental Science and Forestry, and her Ph.D. in Marine and Estuarine Environmental Science from the University of Maryland, and she is completing her MBA at UD. Her research specialty was in geochemistry of tidal marshes of Chesapeake Bay and the Hudson River.
Adapted from OLLI Wilmington Newsletter article by J. Harry Feldman
Photo by Colleen Olexa