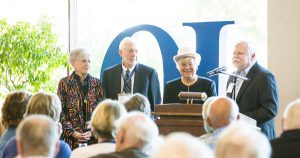 When most people think of the University of Delaware, they envision the Newark campus bustling with students hurrying from class to class and preparing for their future careers. However, in Wilmington, in UD's Arsht Hall, lies the Osher Lifelong Learning Institute (OLLI), filled with more than 2,400 lifelong learners over the age of 50, utilizing this time in their lives to explore new areas of interest – from learning to play the trombone to brushing up on their French.
This community is so invested in their mission—and so committed to ensuring OLLI's ongoing livelihood—that members, instructors and staff banded together over the last three and a half years to support the "Renewing the Dream" $1.5 million fundraising campaign. The passion and drive of the group swiftly pushed past the initial goal, with the campaign closing at $1.78 million under the efforts of the fundraising committee, which included a major gifts subcommittee and a grant writing subcommittee. When the campaign began, Neil Cullen, the original chair of the fundraising committee supported the campaign's efforts along with his wife Betsey. Pam Meitner soon joined him as co-chair and recently reflected on the committee's journey and how it all began.
"In order to pay for renovations to Arsht Hall, OLLI was originally planning to raise dues for all the members," Meitner said. "I knew there had to be a better way and saw fundraising as an alternative."
Because of Meitner's vision and the work of the "Renewing the Dream" campaign fundraising committee, members will now be able to learn in a more modern, safe, accessible and comfortable learning environment at no additional cost. Raised funds have gone towards general program support as well as much needed renovations to Arsht Hall, including the installation of a new HVAC system, remodeled restrooms and improvements to classrooms.
On Friday, Oct. 20, more than 150 OLLI members gathered to celebrate the successful conclusion of the three and a half year campaign. OLLI staff, UD leaders and fundraising committee members celebrated the larger OLLI community for their dedication to this campaign and commended them on their remarkable 92 percent participation rate among members.
"Look to your left and look to your right. These are the people who made this campaign happen … I've never seen a group as committed as you," said Robin Wray, Campaign Director in the Office of Development and Alumni Relations. Wray worked closely with the OLLI fundraising committee to help jumpstart the campaign back in 2014.
Interim Provost, Robin Morgan, was also in attendance, representing UD's leadership. Morgan echoed Wray's sentiments and praised OLLI members for their dedication to the campaign.
"What strikes me the most about this program is not just the amazing selection of course offerings or the talented and knowledgeable volunteer instructors, but instead, it is all of you," said Morgan. "Without your impressive level of dedication and commitment to this program, it would not be the success it is today."
Guests spent the afternoon listening to speakers, enjoying cake and champagne, and posing for photos next to the freshly hung donor plaque. While the "Renewing the Dream" campaign has come to a close, OLLI staff, the fundraising committee and their partners at UD are already starting to think about their next steps and how additional fundraising can continue to support the members who use Arsht Hall every day and benefit from OLLI's many learning opportunities.
Article by Nadine Sabater reposted from UDaily
Photo by Jessica Eastburn