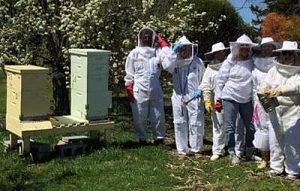 The 21-member (and growing) Lewes Beekeeping Club was formed in 2016 during the inaugural beekeeping class taught by Dean Hoover and Tom Lord at OLLI in Lewes, Delaware. Members recently repopulated one of their two beehives after its bee population died early last fall. The members performed a split with the other hive by taking roughly half its bees and relocating them into the resurrected hive.
"The past year has been an interesting and fun experience for the club," says Denise Bridges, OLLI member and club president. "Learning how to tend the bees has been an adventure, and our first extraction is scheduled for this summer."
The club is active with the Delaware Beekeepers Association in both Kent and Sussex counties and participated in the 2016 Delaware State Fair by educating the public about beekeeping. The club also provided docents for the inaugural Lewes Farm and Garden Tour last summer. An article about the club, written by Dr. Dewey Caron, a retired University of Delaware professor who taught beekeeping, was featured in the March edition of Bee Culture magazine, a major national beekeeping magazine.