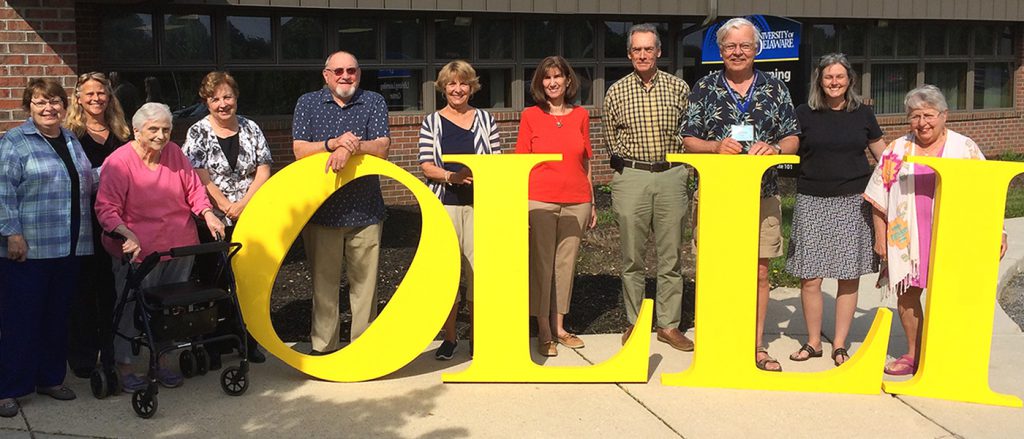 Sept. 5-Nov. 7, 2019
Noon-12:50 p.m.
Wyoming Church, 216 Wyoming Mill Rd., Dover
Free and open to the public!

Join us for a fascinating lineup of speakers and experts who discuss a wide array of topics. You are welcome to attend every program or select the ones that most interest you. Bring a lunch and enjoy! Bring a friend!
SEPTEMBER 5 — Pat Weaver, OLLI instructor
My Favorite Hawaiian Singer
Mr. Weaver will introduce the audience to Hawaii's most beloved singer who died at the age of 38, Israel Kamakawiwo'ole of "Somewhere Over the Rainbow" fame and other memorable songs.
SEPTEMBER 12 — Delores Blakey, historical interpreter
Dinah Tells Her Story
Delores portrays the life of Dinah, a slave woman who worked in servitude under John Dickinson at the Plantation south of Dover. She was freed after many years. Her story comes to life after finding original documents at the Rose Cottage in Dover.
SEPTEMBER 19 — Susan Yocum, community relations officer, Dover Federal Credit Union
Build a Basic Budget
Establishing a plan before a financial crisis will put you in a better position to weather both major and minor setbacks, such as loss of a job, medical emergency or unexpected repair.
SEPTEMBER 26 — Kim Burdick, resident manager, Hale Byrnes House
1777 Seized in September
Delaware in the Philadelphia Campaign of the American Revolution.
OCTOBER 3 — Dr. Cynthia Newton, professor, Wesley College, Dover
The Politics of Our Plate
Dr. Cynthia Newton will discuss some of the most contentious issues surrounding our food: its growth, how we consume it, and what it does to us. Among the topics are GMOs, organics, CAFOs, and obesity.
OCTOBER 10 — Neda Biggs, educator, lecturer and counselor
Anti-Racism Today
Ms. Biggs will present a lecture on her work in the area of racism and her efforts to eradicate it in our times.
OCTOBER 17 — Victoria Golden, coordinator, Literacy Delaware
Achieving Literacy for All
Ms. Golden is the coordinator of this volunteer program that helps persons over age 16 achieve reading competency.
OCTOBER 24 — Doug Miller, OLLI instructor
Benedict Arnold
Everyone seems to immediately brand Benedict Arnold a traitor, but maybe, he was actually just a misunderstood patriot.
OCTOBER 31 — Patricia J. Welsh, independent travel consultant
Flavors of Italy-Regional Italian Foods
Discover the vast variety of foods in the Italian cuisine and the diversity from region to region.
NOVEMBER 7 — Tom Summers, outreach services manager, Delaware State Archives
Treasures of the Delaware Public Archives, Part III
The popularity of this series has led to the creation of a third Treasures program. This presentation will include documents and images dating from the 17th century through the late 20th century. Among the items one will see are images, correspondence, and other interesting documents that reveal life in the First State and how it has changed through the passage of time.
Schedule is subject to change. Attendance is free and open to the public on a space-available basis.