The University of Delaware has created Online Tutorials covering a variety of computer-related subjects. Some of these are being made available to OLLI Students.
Those who are familiar with these courses may go directly to the course listings by clicking here. Otherwise, you are advised to read the following tips and guidelines.
The online tutorials are pre-recorded sessions, meant to be viewed by an individual student. While there is obviously no way to interrupt the instructor with a question, it is possible to pause, back up, and replay a part when you need to. The rest of this page will lead you through the process of starting and viewing a course.
Some words of caution are in order.
At times the video will lag the sound track. This can be disconcerting, but be patient and it will catch up.
At times the courses move very rapidly. Remember you can pause and back up if you miss a point.
These courses were designed for students at the University of Delaware. Some references reflect this orientation (for instance "UD Network Security"), and need to be taken in that light.
The course listings are in a table of 3 columns. The first column contains the course names (each is a link to the actual course). The second column contains the course descriptions. The third column may be empty, or may contain a link to downloadable Practice Files; the menu will vary depending on your browser, but the files should be downloaded/saved to the hard drive on your PC before beginning the tutorial. These files are to be used to practice the material presented in the tutorial.
To view a course, you merely need to click on the course name.
When the tutorial begins, your screen might show a slide show presentation or actual software in operation by the instructor. For instance, the following is from an Excel Tutorial.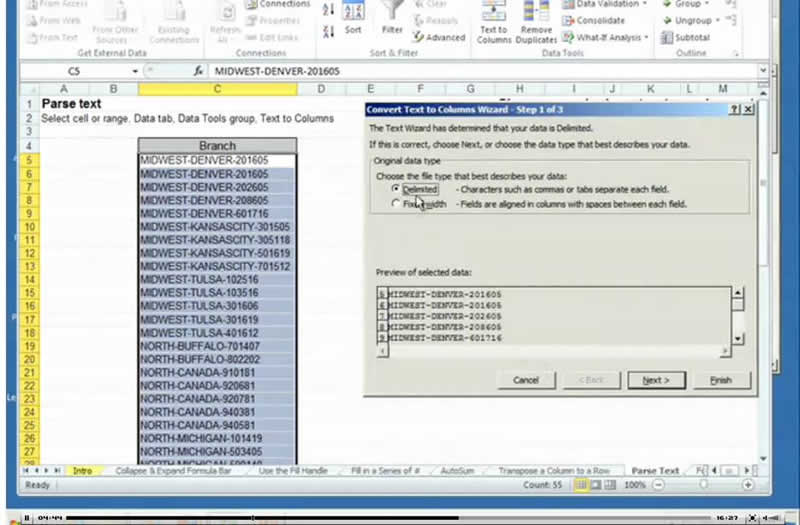 As you can see, when you move your cursor over the screen image, a small control panel appears below the video. The control panel allows you to pause or resume the video, move backward or forward in the presentation, and raise or lower the volume. For courses that come with practice files, you may pause the tutorial from time to time and use the files to practice what was just covered.
Now select a course and begin. Make sure your speakers are turned up, and don't forget the practice files!
Please email lll-lewes@udel.edu and provide feedback on your experience.
| | | |
| --- | --- | --- |
| Course Name/Link | Course Description | Practice Files |
| | Computer Security | |
| PC Desktop Best Practices | The session will outline best practices for maintaining a secure desktop. We will go over everyday do's and don'ts for keeping your PC running well and your data secure. | |
| LearnIT Express: Avoid Getting Stuck in Computer Frightland | Boo!! Did that scare you? Maybe not, but not knowing how to keep your computer and data safe can cause nightmarish problems. Watch this 15 minute special Halloween presentation for IT's top 10 countdown of the scariest technology threats to you and your computer. We'll make sure you're armed with the knowledge you need to keep those gremlins away! | |
| How to Avoid Phishing Scams and Hackers | Do you worry about falling for the latest email or phishing scam? Do you know how to reduce the risk of your computer being hacked? This session will outline best practices for maintaining a secure desktop. You'll see what to click on (security updates) and what to avoid to keep your PC running smoothly and your data secure. | |
| | Excel | |
| LearnIT Express: Excel Tips and Tricks Overview | It's amazing how knowing about a few simple commands in Excel can be huge timing savers. | |
| Excel Refresher | This session will provide you with a quick review of some often used basic Excel features such as simple formulas, number and cell formatting, Trace Error, etc. | Practice Files |
| LearnIT Express: Working with Excel Worksheets and Workbooks | Do you need to share a worksheet but don't want your formulas to be changed? Do you need to retype the same information in multiple worksheets? Do you need to reference a cell from a different worksheet or workbook? If the answer if yes to any of these questions, you'll find the answers during this 15 minute presentation. | |
| Excel 30-minute Review | | |
| LearnIT Express: Finding the Excel function you need | This short video takes a look at finding the right functions in Excel in order to get what you need. | |
| | Web Presence | |
| Web Presence and Web Strategies | During this presentation, we will showcase several Web creation and management tools. You will also become familiar with some important questions to ask about how to best maintain your current Web site as well as which tool to use to create a new one. | |
| WordPress Intro – A Web site creation tool | Are you looking for an easy way to create and maintain Web pages? WordPress is one solution. Attend this session to learn how easy it is to create and maintain a web site using UD's installation of this very popular content management system. During this class, you'll work on your WordPress site to add and edit text, insert pictures, add a contact form and more. | |